Guaranteed Pest Protection For Calabasas Homes & Businesses
Calabasas is one of our favorite areas to service because of its enjoyable community and scenic properties. We understand Calabasas home and business owners have a variety of options when it comes to pest control, but we appreciate the 10,000+ clients in the Ventura County area who put their trust in our guaranteed solutions.
By trusting your home or business to Ventura Pest Control, you not only get the experience of 60+ years in the pest control industry, but you also get the attentive care of a locally and family-owned and operated business. Anyone can promise you a pest-free home, but few can back it up with that much experience and the friendliest, most highly qualified service technicians in the industry. Give us a call today for a free estimate or read more about our variety of certified pest solutions.
Home Pest Control In Calabasas, CA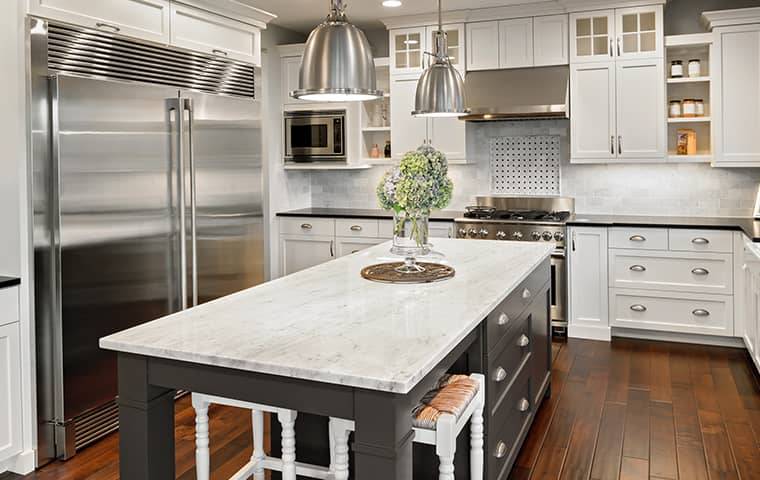 As a Calabasas resident, you understand the natural beauty of the area. But you've probably become all too familiar with the constant barrage of pest problems on your property.
Roaches, rodents, and plenty of other kinds of Calabasas property invaders can bring a variety of danger and damage to your yard and home.
Fortunately for you, Ventura Pest Control has been protecting homes just like yours for over 60 years. We have experienced service technicians and innovative, IPM-approved residential pest control solutions to guarantee an end to all of your pest problems.
Give us a call today for your free estimate.
Commercial Pest Control In Calabasas, CA
If you've been a business owner for very long, you're well aware that pest problems are bad for business. What you might not be aware of is the variety of ways that pests can get into your facility, destroy your inventory, and ruin your reputation in the Calabasas community. When it comes to being a business owner, we know a thing or two after our 60+ years of experience, and we take pride in protecting Calabasas area business owners from pest problems.
Protecting your reputation, your employees, and your customers is our top priority because we understand the struggle of being a locally owned and operated business. Our innovative commercial pest control solutions and commitment to customer satisfaction allow us to guarantee a pest-free facility no matter what kind of business you run. Give us a call today for your completely free estimate and take your first step towards crossing pest control off of your to-do list for good.
Why Professional Termite Control Is Necessary In Calabasas
Did you know that termites invade over 600,000 homes in the United States each year? These wood-eating, home-invading pests will infiltrate the foundation of your home and begin to destroy your house from the inside out, slowly but surely. Even though termites work around the clock, it takes them about a year-and-a-half or more to do significant damage totaling an average of $3,000 or more.
It is important to be able to identify the signs of an infestation. While there are some things you can be on the lookout for, the trained eye can only notice so much. The first step towards protecting your property from termites is to get a professional termite inspection. Our service technicians are highly trained and experienced in dealing with termite problems that plague Calabasas properties, so we know exactly what to look for to tell if your home or business has a problem.
If you do have a problem, we offer a wide variety of termite control solutions, from spot treatments to whole-home fumigations that can eradicate the infestation for good. If you don't have a problem yet, we'll spot potentially conducive conditions on your property that we can address to protect your home from termites. We also provide high-quality protective solutions, such as Termidor HE, which creates a barrier around your home and prevents termite entry. Give us a call today to schedule your inspection. Take your first steps towards our termite-free guarantee.
How To Kill Cockroaches In Calabasas, CA
Cockroaches are universally considered one of the most disgusting-looking pests around the world, but few Calabasas property owners understand the real danger behind these invasive creatures. Since cockroaches live most of their lives scouring through highly contaminated areas like sewers, dumpsters, and landfills in search of food sources, they can track all kinds of bacteria into your home. Cockroach infestations have been known to lead to salmonella, E. coli, and more. Plus, these pests release a pathogen that can cause an allergic reaction in many adults and children.
Unfortunately, since cockroaches are attracted to homes but afraid of people and sources of light, they hide within your walls when you're moving around the house. You'll hardly ever see more than one cockroach over the course of a few days, which is why even this one sighting could be a sign of a much more dangerous and robust infestation nesting within your walls.
Featuring hardened but flexible exoskeletons, most roaches can squeeze into the cracks of your home, which is why cockroaches are some of the most difficult pests to control on your own. With so many health threats on the line, you don't want to trust the inconsistent results of home remedies and store-bought sprays. Instead, wouldn't you rather have professional solutions backed by 62 years of experience?
Our IPM solutions will not only eradicate cockroaches safely but will also provide a protective barrier around your home, preventing roach infestations from occurring in the future. And, as with all of our preventative pest solutions, these treatments are backed by a pest-free warranty in-between visits. If you notice a problem before it's time for us to come back, we'll fix it at no additional charge. Give us a call today to get a free estimate on our cockroach control service so that we can protect your home from the hazardous health conditions of an unseen infestation.
What Makes Mice In Calabasas So Hard To Get Rid Of?
Mice are small rodents that are sneaky about gaining entry into local homes and businesses. They can be extremely hard to deal with, and infestation is a real nightmare no property owner wants to deal with. So, what makes mice in Calabasas so hard to get rid of? Well, there are a variety of reasons to consider:
Mice are extremely small in size, making it difficult to spot them and detect activity.

They fit into small cracks and crevices and tend to nest in remote areas that aren't easily accessible.

They reproduce rapidly, meaning populations spread fast and grow to large numbers.
The best source of protection from mouse activity is to reach out to your local pest professionals. Ventura Pest Control is here to help. Our team expertly detects, exterminates, and prevents mouse activity around your Calabasas home or business. Our goal is to bring you year-round protection from all kinds of rodent infestation. Call today to get started with our rodent control service.
Are You Attracting Wildlife Creatures To Your Calabasas Property?
Pest wildlife activity is a year-round issue here in Calabasas, and many times property owners are unknowingly drawing these creatures to their space. Are you attracting wildlife creatures to your Calabasas property? Here are some conducive conditions to pay attention to around your home or business:
Available harborage spots like under decks and porches

Access to the trash and easily opened garbage cans outside

Overgrown vegetation and yard debris that provides shelter

Leaving food out, including pet food, and not storing food properly
At the end of the day, the best, most effective way to protect your property from wildlife is to call in a team of experienced pest professionals. Here at Ventura Pest Control, we provide complete wildlife control and prevention services that give you the year-round protection you deserve.
Calabasas's Complete Guide To Effective Spider Control
Spider infestation is an unpleasant occurrence, to say the least. Imagine a creepy crawling spider making its way up to your arm, leg, or even your face! The mere thought of it is very upsetting, and that's why it's a good idea to address your spider control and prevention needs. If you want to be proactive in keeping spiders out of your home or business, there are some helpful preventative measures you can try.
Here's Calabasas's complete guide to effective spider control:
Examine weather stripping and replace if damaged.

Install or repair window and door screens.

Keep home clean, thoroughly dust, sweep, and reduce clutter.

Keep other bugs away from home (spiders feed on them).

Keep the exterior/porch lights off (spiders are attracted to light).

Reduce excess moisture by fixing leaky pipes, gutters, etc.

Replace outside bulbs with yellow, insect-resistant bulbs.

Routinely remove webs that develop.

Use caulk or foam to seal up cracks and crevices.
These tips provide you with a great jumping-off point. However, the most reliable way to control spider activity around your property is to rely on help from the pest professionals at Ventura Pest Control. Our team offers effective spider control and prevention services that bring you lasting, pest-free results you can feel good about. Contact us today.
The Most Common Pest Birds In Calabasas
Sunny Southern California is home to many beautiful bird species. While some are more harmful than others, the truth is that you'll find the area is full of pest birds. Bird infestation can cause serious structural damage to your home or business, and it puts your health and well-being at risk. To familiarize you with the culprits in the local area, here are some of the most common pest birds in Calabasas:
Pigeons – Wild pigeons are the most popular urban pest bird. They will nest and roost pretty much anywhere.

Sparrows – House sparrows are the second most popular pest bird. They tend to roost in attics, ventholes, gutters, and beams.

Starlings – These flocking birds can become quite aggressive. They tend to roost in heavily populated areas.

Crows – These intelligent birds are known for their problem-solving skills. They are large, black, and known for damaging crops.
Pest birds can become a real problem around your property, putting you and everyone on the premises in danger. When it comes to protecting your Calabasas home or business from bird infestation, get in touch with the pest experts at Ventura Pest Control. We offer quality protection from pest birds, keeping you guarded all year long.
Request Your Free Quote
Complete the form below to schedule your service.