Moles are small, burrowing animals that can create unsightly and sometimes dangerous tunnels in your lawn. There are a few treatment options that may help control them, but moles can be very difficult to remove once they have moved into your yard. It may be possible to eliminate their underground food supply, but DIY mole control is time-consuming, frustrating, and often unpredictable. The most effective results will be achieved by partnering with a Ventura County pest control company with experience in mole prevention.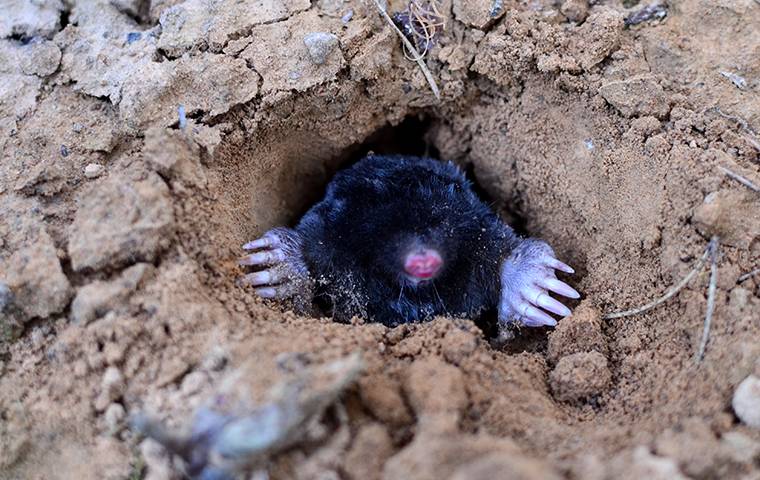 How To Identify Mole Damage In Your Yard
Moles can cause a great deal of damage to your yard, both aesthetically and through their tunneling activities. The most obvious sign of mole activity is the presence of molehills in your yard, which are created by soil and grass being pushed up from underground to form small hills or domes. Moles create tunnels underground as they move through the soil in search of food and shelter. The deeper the tunnels, the more damage your lawn suffers, as they disrupt the roots of plants and grass in their path
Controlling moles can be difficult and time-consuming and can be ineffective if not done properly. The sooner you address the problem by engaging local pest control professionals with mole removal experience, the less damage will be done to your yard.
The Danger Moles Can Cause To Your Lawn
Moles are voracious eaters and can easily decimate an entire lawn. They feed on worms, grubs, and other insects that live underground. Their digging may cause dead patches of grass to appear, and may even kill plants. Additionally, the tunnels can damage underground irrigation systems and plant roots, leading to further problems with your lawn or garden. In extreme cases, moles have been known to cause structural damage to buildings by burrowing beneath them. Mole tunnels can also weaken the structural integrity of a yard, leaving it prone to erosion.
The best option to consider that will eliminate moles and the damage they cause is professional wildlife control services in Ventura County.
How To Make Your Lawn Less Appealing To Moles
Moles in Ventura County can create quite a nuisance in your lawn and garden. Your lawn can be less appealing to moles by using these natural mole control tips to help deter them:
Aerate your lawn, reducing the number of earthworms and insects.
Plant shrubs with deep roots to help prevent moles from tunneling.
Create a physical barrier between your lawn and areas where moles live.
Keep your lawn dry by avoiding over-fertilizing and irrigating.
Following these tips should help make your lawn less inviting to moles and reduce the amount of damage they cause. For more effective and long-lasting results, contact a mole control professional, like Ventura Pest Control, that has the necessary expertise to deter moles from your yard permanently.
Contact The Pros For Effective Mole Removal And Control
At Ventura Pest Control, we use the latest technology and methods to accomplish the best mole control available in Ventura County. We specialize in prevention as well as treatment of existing mole populations, with solutions designed to be safe for children and pets, yet effective against moles. Our knowledgeable and experienced technicians are trained to treat any kind of mole problem. We offer free estimates and inspections as well as highly efficient treatments that will get rid of your mole problem quickly and safely. Contact us today to learn more about our residential pest control services and commercial pest control services in Ventura County and our pest-free guarantee.