Pigeons are like us in that they want shelter and food. If you've got pigeons on your property, the odds are that one or both of those things are readily available to them. Consider any open containers such as dumpsters or trash bins. Outdoor picnic areas are another favorite spot for pigeons to congregate. Pest control in Ventura County involves staying several steps ahead of these intelligent, persistent creatures. Read how you can, too.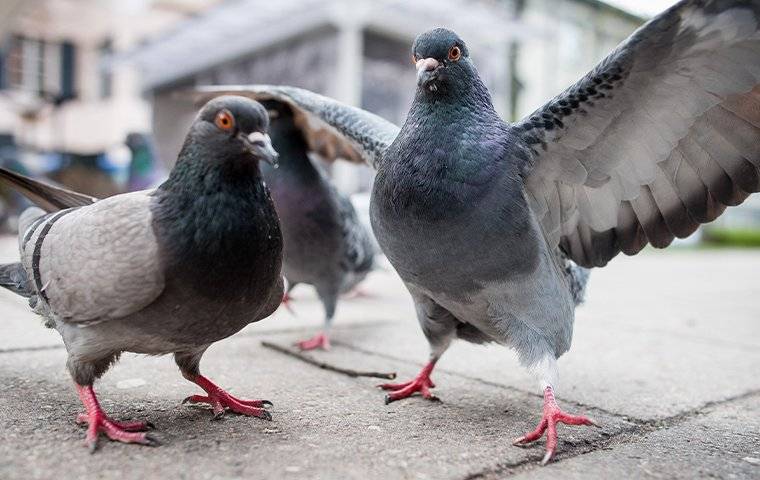 Are Pigeons Considered Intelligent?
It may come as a surprise, but the common pigeon is actually quite an intelligent animal – even compared to some of Earth's smartest. Here are some interesting traits of pigeons that demonstrate their intelligence:
They can recognize themselves in a mirror and understand the concept of their reflection as an individual – that may not seem impressive, but it takes humans 2-3 years before we develop the same ability! Not to mention, most animals on Earth can't do this at all.

Pigeons can recognize dozens of unique shapes. Naturally, that means people have taught their pigeons to recognize the entire alphabet!

Pigeons tend to adapt their flight paths and social behavior to blend in with humans. We are an amazing source of food and shelter for them, so they go where we go. In urban areas, pigeons actually travel along road lines and junctions – even if they're hundreds of feet in the air. In other words, they're great with traffic laws.

Pigeons can hear sounds that we cannot and can hear an incoming storm or even an earthquake well before we can.
Pigeons are intelligent creatures; that's a fact. Their intelligence, however, is a double-edged sword. That intelligence helps them evade the average homeowner's attempts to eliminate them from their property. It'll take a professional job to outsmart these birds!
How Dangerous Is It To Have Pigeons Around My Property?
Pigeon control in Ventura County is important, even if pigeons are usually non-violent toward humans. Here are some of the many ways pigeons can be dangerous to have hanging around.
Pigeons can carry a plethora of diseases that are very harmful to human beings.

These birds can cause extensive property damage by eating and destroying materials to build a nest.

Pigeons have a habit of clogging gutters when nest building, which can lead to flooding on your property.

Because pigeons build their nests out of highly flammable material (it's basically kindling), the risk of fire at a property where pigeons have nestled in and built a home for themselves skyrockets.
As you can see, having pigeons around is no laughing matter. While some find them to be fantastic pets, there's no escaping the fact that they're actually quite dangerous for your home. Responsible pigeon pest control involves calling in the pros before these birds become too entrenched.
Why Are Pigeons So Attracted To My Property?
It's important to keep in mind that pigeons are quite smart and have a decent sense of memory, too. That means they can recognize the signs of a home that has food lying around from, quite literally, hundreds of feet in the air. A spare bag of chips or a picnic left out for too long can signal to many birds in the vicinity that yours is a house to hang around at for a while.
The best pigeon control is to make sure they never form an interest in your place to begin with. That, of course, won't work if they've already made a home there, but prevention is huge.
What's The Best Way To Keep Pigeons Away From My Property?
So, we've seen that pigeons can be quite stubborn neighbors. Take one look at the streets of a major city in America, and you'll find pigeons downtown that barely flinch at cars, let alone anything the average homeowner can hope to deter them with. Needless to say, the do-it-yourself approach to pigeon control simply isn't viable.
So, if the average homeowner can't do it, that begs the question – can pest control get rid of pigeons?

Thankfully, yes! Calling in the professionals is the only surefire way to tackle an infestation of any kind once it's taken root. DIY is simply not the approach for handling a pigeon infestation.

Ventura Pest Control is Ventura County's number one solution for dealing with an unwelcome flock of pigeons on your property. Controlling pigeons doesn't have to be a daunting task – call us today to get started on reclaiming your home from any infestation, big or small.