Relaxing in your home is a lot more difficult when colonies of ants start taking over your backyard, kitchen, or dining room. Eliminating them everywhere is impossible because these tiny insects play an essential role outdoors, but that does not mean you have to tolerate them in your home. Ants are needed for a healthy ecosystem for a variety of reasons. For one, they help disperse seeds and help make plants more robust and likely to propagate. Also, they work hard digging through the soil, creating tunnels that keep it healthy and aerated. And finally, they prey on small insects and decomposing plant and animal matter, as well as serve as food sources for beetles, spiders, and more. Inside homes, however, ants can cause many issues, and getting rid of them can be tricky. One characteristic of ants is that they live in highly hierarchical social groups with queens that are hard to reach with conventional treatments but can replace worker ants faster than you can eliminate them. Getting rid of them is crucial in keeping a healthy home because some species can spread various pathogens like salmonella by invading our food supply. If ants have started to invade, it is time to learn the signs of an ant infestation, discover the many problems they can cause in homes, and try five eco-friendly tips to prevent ants from returning. If you are struggling with an infestation, Ventura Pest Control provides pest control in Ventura County that you can rely on to make your home a haven once again and for good.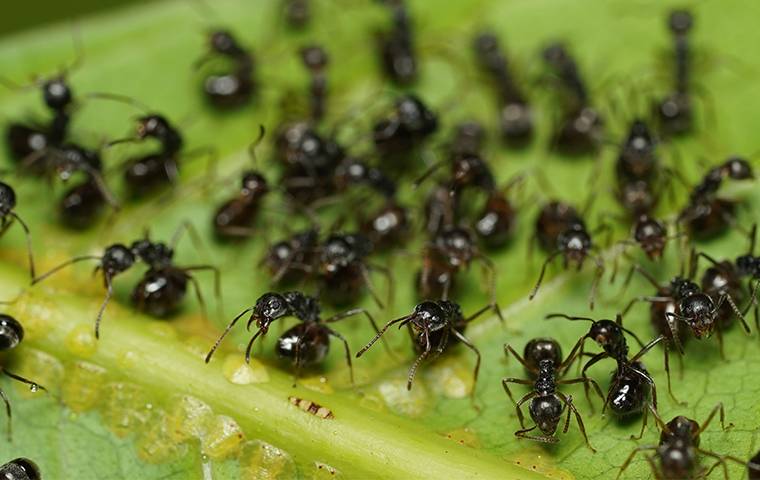 How To Tell If You Have An Ant Infestation
Determining if you have a pest infestation varies depending on the bug that managed to come inside your home. Some, like fruit flies, can easily be seen as they gather around leftovers and bowls of ripe produce. With others, like the nocturnal cockroaches, even one is enough and should be cause for concern. Ant infestations are harder to spot depending on the species, but the following signs are a strong indicator that you might want to start looking for effective ant control near you:
You see lines of ants whenever you leave food out: Seeing only one ant may or may not be a sign of a bigger problem, but groups of worker ants working together to gather food in your home is a sure sign of an infestation. The colony is probably big enough and might have more than one queen. You will need to exterminate each of them to eliminate the entire population.
Ants take over your pantry: Common house ants, like Argentine ants, are widespread in Ventura County, go for sweet and high-carbohydrate foods like bread, sugar, baked goods, honey, and more. If taking standard precautions to keep them stored safely and away from invaders is not enough, you probably have an ant problem.
You find ants on or inside garbage cans: Trash cans are the perfect place to find decomposing and rotting food, which is why they are one of the first areas to be taken over by ants. Keeping them clean and tightly closed can help keep ants at bay, but with advanced infestations, it is best to keep them empty as much as possible. If you have a compost pile, you will want to ensure it works correctly with plenty of brown matter to prevent rotting.
You find ant hills in your yard: While ants are important outside, an excessive amount of ant hills is a problem because they might find their way indoors as soon as the weather gets colder. If they are an issue in your yard, outdoor ant control might be right for you.
You find piles of sawdust near walls: Both termites and carpenter ants work around the clock to break down the wooden structures of homes, but only ants leave piles of sawdust as they can't digest cellulose. Some termites leave digested pellets that look like ground salt and pepper. If you find signs of a carpenter's ant infestation, contact a pest control company before they have a chance to cause structural issues.
You see insect wings: While most ants you see do not have wings, the ones that reproduce do. You might find wings throughout your home as ants get rid of them as part of the reproductive process.
If you see any signs of an ant infestation, continue reading to learn about the many problems they can cause indoors.
The Many Problems Ants Can Cause In Your Home
Ants can cause various problems in the area. First, ants will pick up pathogens in unsanitary places and bring them back into our homes. This can contaminate kitchens and dining areas, increasing your chances of getting sick from salmonella, E. coli., and shigella, to name a few. Some of them can also cause structural problems, like the carpenter ants that settle inside walls only to start chewing on the wooden structures. And these issues are bound to get worse if the infestation is not controlled, as the average colony can contain half a million ants, with queen ants being able to reproduce for many years. If you are dealing with an ant problem, you mustn't waste time trying to eliminate it on your own. Misusing baits can cause colonies to split into several different ones, and they often end up being ineffective as soon as ants realize they are a threat to the group. Instead, it is best to contact the pros as the first sign of ants in your home.
Contact The Pros At The First Sign Of Ants In Your Home
The best way to get rid of ants is to find a local pest control company and see the options available to eliminate these tiny but destructive invaders safely. At Ventura Pest Control, we have extensive knowledge in eliminating common ants in the area with reliable ant control services. Some ants will require different ant control solutions, like Argentine ants and carpenter ants which have different needs. Using the wrong treatments might cause the infestation to grow and become harder to exterminate. To avoid these common issues with DIY ant control, contact us today. We will send a licensed service technician to your home to conduct an inspection and identify access points and factors that are attracting these pests and use treatments in critical areas that are effective but also meet your unique needs and requirements. With over 62 years in the industry, we know how to stay on top of the latest findings in pest control and only use products that are safe for everyone in your household and are powerful enough to exterminate the entire ant colony. As a family and locally-owned company, we go beyond simple pest control and strive to provide the best customer service experience possible with excellent results every time. Once the infestation is taken care of, which can require multiple visits depending on its size, we will show you practical prevention tips to prevent your ant problem from returning.
Five Eco-Friendly Tips To Prevent Pavement Ants From Returning
If you want to eliminate ants with natural strategies, the following five eco-friendly ant prevention tips can help prevent pavement ants from returning:
Seal cracks and air gaps: Cracks in foundation walls, window frames, and more can cause various issues, including pest infestations. This is especially true with tiny invaders like ants. Closing off access points is an integral part of successful pest control.
Keep your yard clean and decluttered: Because ants are outdoor creatures, their colony might get out of control with the right circumstances and make their way indoors. It is always best to eliminate stagnant water sources like buckets, tires, and pools, unclog drains, and keep bushes, trees, and grass well-trimmed.
Reduce humidity levels: Ants are drawn to rooms with high humidity and stagnant water. You will want to run fans after steamy showers and baths, run dehumidifiers if needed, and ensure pipes drain properly, especially in the kitchen and bathrooms.
Put food away quickly in high-quality containers: It is easier for ants to take over food storage areas when the ingredients are easily accessible. Tight-fitting lids help a lot, and so does wiping off bottles with substances like maple syrup and honey on the outside.
Schedule regular inspections: Consider scheduling regular pest control inspections to take the guesswork out of ant prevention. A qualified team can spot the signs of an ant infestation before you, reducing the need for chemical treatments.
Applying these natural ways to keep ants out of your home and using treatments strategically throughout the year gives you the highest chances of making your home ant-free.
Ants are invasive pests that no one wants to see indoors. Some, like odorous house ants, can spread diseases and take over your food supply, potentially causing massive waste and unnecessary expenses. Pavement ants are not known to carry pathogens, but they invade any food that is sweet, high-carbohydrate, or high-protein. And carpenter ants can cause significant structural damage to homes. Don't wait for your infestation to become larger and harder to control; let us show you how you can exterminate them safely and prevent them from returning with reliable ant control in Ventura County.