It is disheartening when you start to see gopher activity in your yard. These animals can cause damage that is unsightly. If you work hard to keep your lawn looking beautiful, gophers can ruin your day. Join us as we take a look at a few important facts that every Ventura County resident should know about gophers and gopher pest control.
If you're dealing with an urgent gopher issue and you need pest control in Ventura County, feel free to hop over to our contact page for immediate assistance.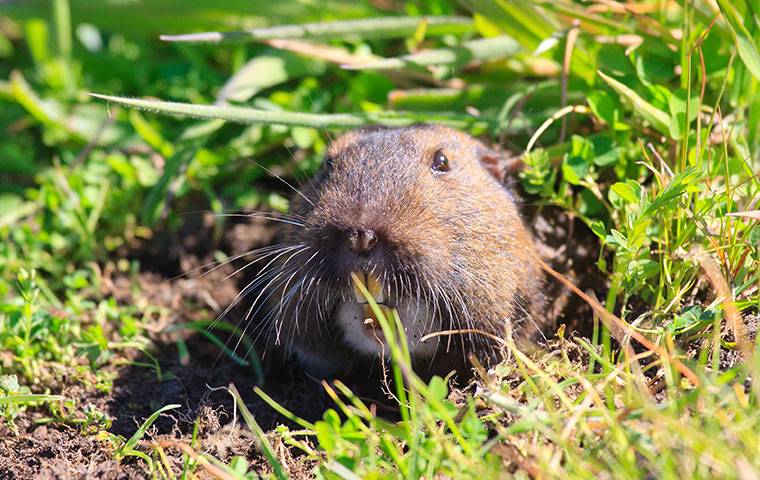 The Signs Of Gophers In Ventura County
There are primarily three signs that gophers provide. Unfortunately, these signs can be created by other pests as well. Not only do you need to know the signs, but you also need to know how to interpret the signs.
Mounds
Often, gophers create mounds. If you've been dealing with gophers for a while, you know this. The mounds created by gophers are not only unsightly but they can also be spread out when you mow your lawn and this can kill your grass and cause dead patches on your lawn. But, long before this happens, you can analyze mounds to tell whether or not you have a gopher problem or a mole problem.
Gophers excavate dirt and often create a fan shape. Moles usually create a volcano-shaped mound. If the gopher in your yard creates a volcano-shaped mound, you can tell that it is a gopher mound by examining the dirt. Gopher mounds have finer dirt chunks. Moles have larger chunks because they push the dirt out with brute force rather than digging it up and pushing it out a little at a time as a gopher does.
Holes
Gophers plug their holes but sometimes you'll find holes that are unplugged. When you find holes (plugged or unplugged) consider their proximity. Moles don't create holes that are close together, so several holes in one area is a sign of gopher activity.
Damage
Gophers eat plants. If you discover a plant completely missing from your landscaping or garden, a gopher is likely to blame. Other pests tend to make holes in vegetation and vegetables. Moles don't eat veggies. They eat bugs and worms by the truckload.
Use these signs to help you determine whether or not you're dealing with a gopher issue. If you can't figure it out, reach out to us here at Ventura Pest Control for an inspection. We use the most advanced gopher control methods and products.
What Attracts Gophers To Your Yard?
Gophers are herbivores. If you have a garden or lots of plants in your yard, you're going to attract the attention of gophers. You can reduce the attractiveness of your yard by applying fencing material that goes well beneath the surface of the ground. These will make it more difficult for gophers to access the food they desire to eat.
Apart from this, the only other solution is to apply gopher control products. These are best deployed by trained individuals. We know of no natural gopher control that can be implemented by Ventura County residents other than applying fencing material. This makes gopher control quite a bit different from general pest control.
Can Gophers Cause Irreparable Damage To Your Lawn?
The tunnels that gophers create underneath your lawn can be irreparable, but as far as above-ground damage is concerned, all the damage caused by gophers can be repaired. Unfortunately, this damage can be costly, particularly if you have lots of expensive landscape plants that have been damaged.
What occurs most often is that underground tunnels continue to be an above-ground issue. Foot traffic can cause the soil to push down into gopher tunnels and create a hole or dent. These holes and dents can present a hazard as it is easy to roll an ankle. Small children may even put their entire foot and leg into a hole, creating an even greater possibility of serious injury.
What Is The Best Way To Keep Gophers Away?
If you're looking to protect an outdoor play area, sports field, golf course, baseball field, vineyard, garden, or you have some other essential need for effective gopher control, it is best to have a licensed professional with experience in gopher trapping and professional gopher control handle your pest problem.
At Ventura Pest Control, our technicians have experience with these pests and we can provide ongoing surveillance and trapping services that are customized to your specific needs and budget. We can also treat tunnels with carbon dioxide to make them less attractive to any gophers that might seek to use them in the future.
If you're looking for effective gopher control or if humane gopher control is important to you, Ventura Pest Control is the right choice. It is easy to get started with gopher control services at Ventura Pest Control because we offer a free inspection. We'll get to the bottom of your gopher problem and provide you with the data you need to make the right choice for your control needs. Connect with us today for assistance.