To the untrained eye, termites appear similar to ants. Both creatures form large social colonies containing hundreds or thousands of members.
Although termites do not sting, bite, or spread diseases, these pests cause billions of dollars of property damage in the U.S. each year.
The two most prevalent species of termites in this region are subterranean termites and drywood termites. Aptly named for their below-ground nesting sites, subterranean termites prefer areas of damp soil. Subterranean termites form tunnels (mud tubes) that connect the underground nest and the source of wood above the ground that affords that safe passage.
Compared to subterranean termites that generally require higher moisture levels, drywood termites will consume drier wood, and these pests actually reside within the wooden structure.
Are you wondering what to do about termites? Detecting a termite problem is often challenging for individuals who are unfamiliar with the signs or indications. Contacting a Ventura County pest control company is the best course of action, as the professionals understand what kills termites and the best strategies for preventing further intrusions.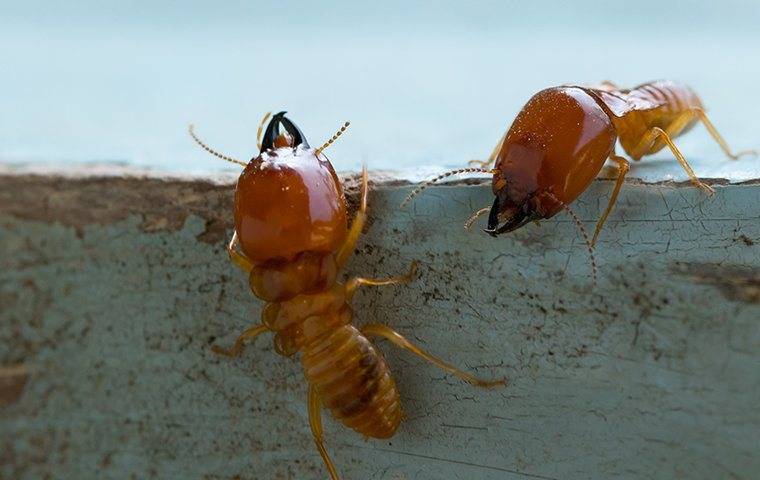 The Life Cycle Of Common Termites
Winged termites gather in swarms, typically during the spring months, which is the initial phase of their mating ritual. Queen termites form eggs that soon develop into larvae and nymphs before reaching adulthood. The life span of most termites ranges from one to two years; however, queens often live for many years.
Why Termites Infest And Destroy Wooden Structures
Termites consume cellulose, a key material in wood. In nature, termites assist with the decomposition of dead trees and other materials, which returns the nutrients to the soil below.
What does termite damage look like? As a termite infestation develops over the initial weeks or months, many property owners will not recognize the presence of these damaging pests. Termites generally begin eroding wooden structures from the interior, making the activity less apparent. Some of the indications of a potential problem include noticing small piles of "sawdust-like" material, opening or closing of windows and doors becoming increasingly more difficult, and walls may sound "hollow" when knocked on.
Factors That Can Attract Termites To Your Home
Termites will reside in settings that offer them an ample supply of wood, which might include the area of your property. Some of the conditions that will likely attract these pests include:
Yard areas littered with fallen trees, branches, and other organic materials may attract termites.
Termites often invade structures where the soil has direct contact with the wood supporting the home.
Failing to maintain gutters and downspouts allows moisture in the soil that subterranean termites prefer.
Basements or crawlspaces with excessive moisture or humidity will likely attract termites.
Termites represent a unique home pest control problem. Homeowners must remain attentive to all property conditions to detect problems early on.
The Stress-Free Way To Total Termite Protection For Your Home
What does a termite inspection consist of? Our qualified technicians will perform a detailed examination of the property. Often, the inspection process involves assessing the ground and below ground areas near the structure for detecting subterranean termites. During this assessment, our expert will also identify any existing property conditions that might attract these pests, including water-damaged wood.
One of the product options that our specialists might deploy is Termidor HE, a powerful termiticide. We form a trench that encircles the structure at a depth of six feet. In the form of a liquid, the product soaks into the soil, creating a perimeter of protection that effectively limits any termite activity.
For more than 60 years, the local technicians with Ventura Pest Control have delivered positive results for residential and commercial pest control customers in this region that are facing difficulty with bed bugs, rodents, stinging insects, and many other harmful pests. Our team follows the methodology of integrated pest management, an approach involving eco-friendly solutions that ensure safety.
Contact us today to schedule an onsite termite control inspection and estimate.