Ventura County is home to a wide variety of spiders. Some may be scary looking, but most are harmless. However, you should still know how to get rid of spiders in your house. In this handy guide, you'll learn about the types of spiders often found here, why they invade your home, five naturally effective prevention tips to keep them out, and the key to total spider control.
We'll give you a sneak peek at that last one: You should call a professional Ventura County pest control company like Ventura Pest Control. We've been your local pest control solution in Ventura County since 1959.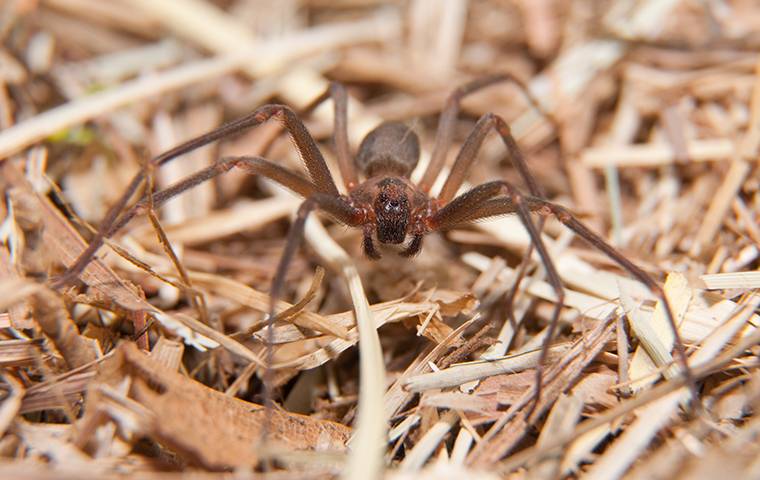 Types Of Spiders Often Found In Ventura County
Many types of common household spiders pop up in Ventura County homes, including:
Wolf spiders have bodies that are about ½ to 1 ½ inches long, long, athletic legs they use to run down their prey instead of capturing it in webs, and eight eyes arranged in three rows. They only bite when provoked, but their venom is not strong – it causes mild pain, swelling, and itching.
Garden spiders are large black spiders with yellow markings that spin elaborate webs. They're ¾ to 1 inch long with long, yellow-striped legs. Their webs are notable for the large zigzag that runs through them, known as the stabilimentum. They only bite when provoked, but since their venom is harmless to humans, it feels like a bee sting.
Huntsman spiders have bodies about 1 inch long and a leg span of 3 to 5 inches. They're mostly brown, and their legs bend forward like crab legs instead of protruding straight out to the side like most other spiders. Some varieties are known to bite humans if provoked or if they perceive a threat to their egg sacs or young. Effects vary but suffice it to say that you should seek medical attention if a huntsman bites you.
Daddy longlegs spiders or cellar spiders, though they have a variety of different names, have small bodies, only ⅖ of an inch at most, and leg spans of up to two inches. Their bodies and legs are both very thin. Despite rumors that they're the most venomous of all spiders, their bites are extremely mild and not medically significant.
Black widow spiders are shiny black with a red hourglass shape on their bellies. They have the strongest venom of the spiders commonly found in the area. Symptoms can include fever, sweating, increased blood pressure, and nausea, with pain peaking between one and three hours after being bitten. Seek immediate medical attention because these bites can be fatal.
Brown widow spiders are cousins to the black widow, except they're brown with orange hourglass markings on their bellies. On their back, they have elaborate geometric markings. Their bites are far less dangerous, usually only causing pain. They're about ⅖ to ½ an inch long with globular abdomens.
Desert recluse spiders are related to the brown recluse spider. They're ½ to ¼ of an inch long and tan to dark brown with a violin-shaped mark on their back. Like their cousins, their bites can result in skin dying and sloughing off, leaving an ulcer behind.
It's clear that you need to know how to get rid of spiders if they get inside your Ventura County home.
Why Spiders Invade Homes
Spiders in Ventura County invade homes for one main reason; food. If you have an infestation of insects, including termites, cockroaches, or flies, spiders may be moving in to help control the pest population. They may also move in to escape harsh winter weather.
While it may seem like a good idea to leave them alone if they're helping with other pests, you don't want to leave spiders running around your home. They reproduce fast, and soon, you'll have hundreds of spiders sharing your space. You need to get rid of spiders in your house when they appear.
Five Naturally Effective Spider Prevention Tips
If you want to know how to get rid of spiders in your house, here are five naturally effective spider prevention tips:
Cut shrubs, bushes, and trees back away from your house so spiders can't use them as a bridge to invade.
Maintain your lawn. Keep grass cut short and remove piles of brush, leaves, or debris.
Clear out your clutter. Spiders love hiding in boxes or dusty corners in your basement or attic. Dark, quiet areas that may go undisturbed for months are the perfect place for spiders to set up shop.
Seal up any spaces around your windows and doors with weather stripping and door sweeps.
Clean up spider webs as you come across them to deter spider activity in your Ventura County home.
The Key To Total Spider Control For Ventura County Homes
The best way to get rid of spiders in Ventura County is never to get them in the first place. The second-best way is to partner with Ventura Pest Control to get rid of them. Take advantage of our 63 years of experience in pest control and put it to work for you. Reach out today to get started and to learn more about our residential and commercial pest control services in Ventura County.