We've got our fair share of bees and wasps here in Ventura County, some highly aggressive and some pretty benign. Of course, no Ventura County pest control plan would be complete without considering these pests. Still, unlike some less dangerous pests, most bee and wasp varieties are not something you want to try to handle yourself, and that goes double for excessively hostile Africanized honeybees.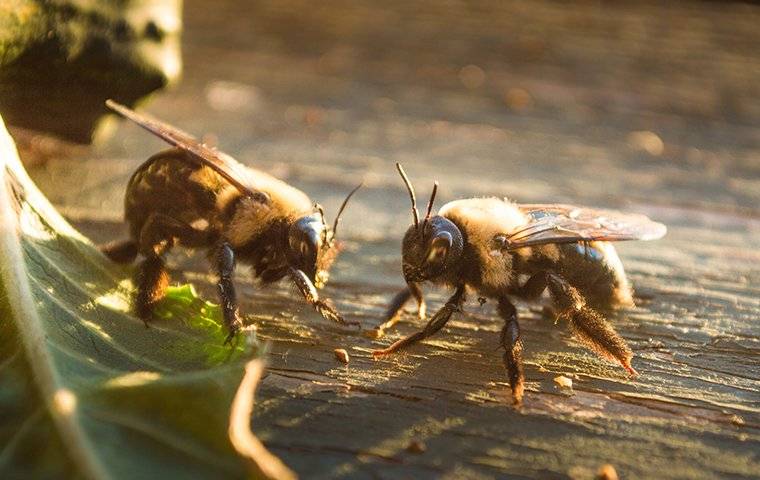 What Types Of Bees Are In Ventura County?
We've got lots of stinging insects in Ventura County, including bumblebees, honeybees, carpenter bees, yellow jackets, paper wasps, and hornets. Bumblebees and carpenter bees are not aggressive and will only sting if directly disturbed. The European honeybees initially imported to North America in the 1600s are not typically hostile unless they feel threatened. However, we have one bee variety in Ventura County that's a different story: Africanized honeybees.
Many people are not quite sure what Africanized honeybees are. So they wind up thinking these bees are the same as European honeybees. However, Africanized honeybees are a distinct species created by humans trying to breed a more abundant and hardier bee species that could handle the tropical environment of Brazil. However, several queens escaped into the wild and spawned the species now known as the Africanized honeybee, which quickly spread through the Americas.
These bees are so infamous for their propensity to swarm and give chase that they've been nicknamed "killer bees." Indeed, these bees are estimated to have killed around a thousand people over the decades, and they've even killed horses, chasing them hundreds of yards and delivering thousands of stings!
Is It True That Bees Can Only Sting Once?
Indeed, bees can only sting once. This is because the stinger tears out of the bee's body when it delivers the sting, pulling the bee's innards out and leading to death. However, when thousands of bees are swarming – ready to die to defend their colony – there's little limit to the number of stings you could receive. This makes Africanized bees (and European bees) dangerous. Their venom isn't particularly potent, but thousands of doses can lead to a toxic level in your body.
What's The Best Way To Remove Bees?
There is no safe DIY method for bee and wasp removal. If you don't know what you're doing, you can quickly get yourself stung dozens to even thousands of times. What's worse, many homeowners mistake an Africanized honeybee hive for a European one and instigate an attack much more intense than expected. This is why the best thing you can do is call Ventura stinging insect experts like the kind you'll find at Ventura Pest Control. We know exactly how to control Africanized honeybees and other stinging insects safely and effectively.
Is There A Way To Deter Bees?
If you don't want to risk getting stung, the best thing to do is keep wasps and bees away from your property. Unfortunately, this is easier said than done. However, there are some measures you can take:
Grow garlic or sprinkle garlic powder around your home.
Plant other herbs and flowers that deter bees, like citronella, mint, and lemongrass.
Spray essential oils with smells like citronella and mint around your home.
Fill holes in the ground and tree trunks to encourage ground-nesting bees and wasps to move on.
Remember, if you wind up with a bee or wasp infestation, do not try to deal with it independently. Avoid the stings by calling the Ventura, CA home pest control and commercial pest control experts here at Ventura Pest Control.