As a Ventura homeowner, you may be concerned about the safety of your family and pets when it comes to ground bees. While these bees are not typically aggressive, female ground bees can sting if they feel threatened.
On the other hand, males charge toward you aggressively and buzz into your ear loudly to scare you away from females or nests.
If you have youngsters or pets that spend time outdoors, it's essential to take precautions to ensure their safety. Call pest control in Ventura County when you notice these pests around your home.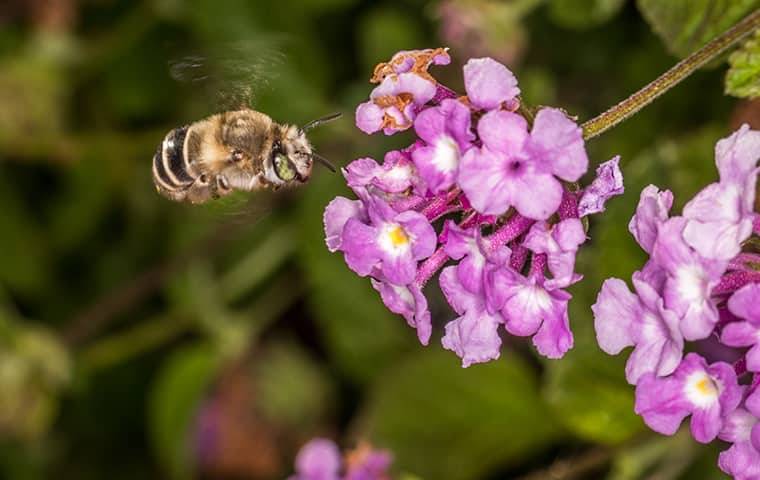 What Attracts Ground Bees To Your Property?
Several things can attract ground bees to your property. These include:
Flower gardens
Wooded areas
Overgrown grass
Unkempt landscaping
If you have any of these things on your property, there's no telling when these critters might attack when you interact with them, even accidentally. It's important to choose home pest control to reduce the risk of attracting ground bees.
A professional pest control bureau can ensure that you and your loved ones enjoy some outdoor time in your Ventura yard.
Nesting Habits Of Ground Bees
Female ground bees create nests in the ground, usually in areas with loose, sandy soil. They excavate a series of tunnels that lead to individual cells where they lay their eggs. They dig their nests in the ground, usually in bare patches of the garden or lawn.
The nests resemble mounds of soil, similar to anthills, but with bigger openings. You'll see the bees flying low to the ground when they enter their burrows. The bees use dry soil to make their nest. Then, they mound the loose soil around the burrow's entrance.
She stocks the nest with nectar and pollen for her babies. Ground bees are naturally solitary. Therefore, every female ground bee has her nest and takes care of it alone. If you have these invasive pests on your property, there's a good chance that there are one or more nests around the yard.
Ground bees automatically camp in areas with suitable nesting conditions. And they populate fast. Strive to end their increase by calling home pest control services early.
Ways To Deter Ground Nesting Bees
Homeowners should also take the following natural home pest control steps to discourage these pests from nesting on their property:
1. Water your lawn regularly- ground bees make their nests with dry soil. Therefore, moist soil prevents them from creating nests in your yard.
2. Trim hedges and bushes.
3. Remove dead leaves and debris.
4. Use traps.
5. Use DIY home pest control spray on them.
Gentle Pest Control For Ground Bee Removal In Ventura County
Ground bees can be stubborn and territorial pests. Granted, certain methods of DIY stinging insect control at home may drive them away, but not for long. You need professional pest control near your home like Ventura Pest Control to eliminate the nuisances.
We're a pest control business based in Ventura, CA, that's been in business since 1952. We've gathered sufficient experience over the years to deal with all types of critters effectively, including ground bees.
We have a simple yet powerful technique of doing things. First, we inspect your home to know where the bees' nests are and what attracts them to your yard. Afterward, we create a customized service plan to suit your requirements.
We use quality equipment and products for maximum results. Finally, we perform regular follow-ups to ensure the bees never show up on your property again. Call us today to begin ground bee control in your Ventura home.