Request Your Free Quote
Complete the form below to schedule your service.
Bed Bug Problems In Your Ventura County Home
As Ventura County residents ourselves, we understand the kind of emphasis Ventura County residents place on keeping their homes and properties looking great. While maintaining your lawn regularly and keeping your home clean can reduce the attraction for many home-invading pests, these methods won't help you keep bed bugs out of your home.
Unfortunately, many people who believe that bed bugs only invade dirty homes are misinformed. In fact, there are a variety of misconceptions surrounding bed bugs that can exacerbate the health problems of a bed bug infestation. Fortunately, the experts at Ventura Pest Control have the experience and equipment to completely solve your bed bug problem.
Dangerous Misconceptions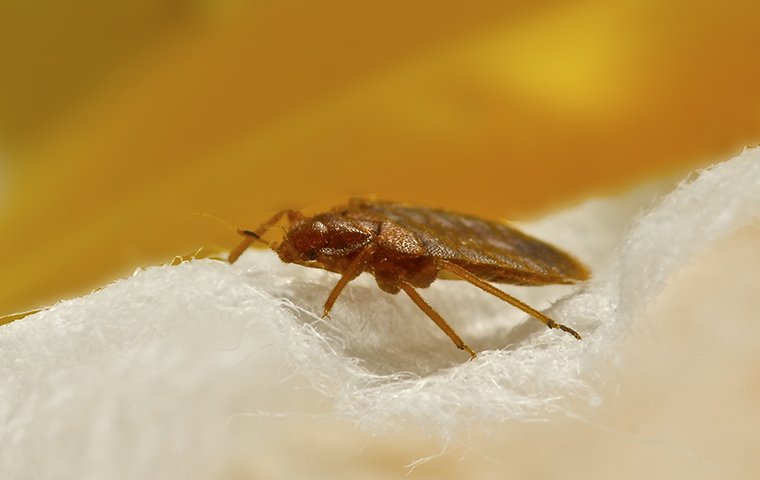 Many people think that bed bugs aren't a health threat, that they only invade dirty homes, and that they're easy to get rid of. However, all three of these are dangerous misconceptions that could lead to a frustrating and unnecessarily long infestation.
First of all, bed bugs are very small pests, so they're unable to move quickly on their own. They also prefer temperature-controlled environments making it unlikely for them to live outside. Therefore, they make their way into homes by hitchhiking on items like luggage, clothing, and secondhand furniture. To prevent a bed bug infestation, you have to be vigilant about checking these items before bringing them into your home.
Bed bugs are known as the hitchhiking vampires of the pest world. After they hitch a ride into your house, they'll hide in your mattress and furniture cushions, waiting for you to fall asleep so that they can crawl out and feed on your blood.
These nightmarish pests do not pose a huge health threat at first, but the longer they maintain a foothold in your home, the more exposed you'll be to the prolonged health effects of an infestation: skin irritations from bites, insomnia, and anemia. Unfortunately, if you do notice the signs of a bed bug infestation, they're very difficult to get rid of on your own. Vacuuming or spraying the surface of furniture cushions and mattresses may kill a few bugs, but it won't eradicate the pests that are burrowed beneath the cushions. To get rid of bed bugs you have to kill every last bug and egg, and to do this successfully, you will need professional help.
Treatment Options & Processes
Fortunately for you, Ventura Pest Control has over 60 years of experience dealing with bed bug problems in Ventura County homes. Our professional treatment methods are designed to fit your particular property needs and your budget, so we offer a variety of options.
We'll always begin with a thorough bed bug inspection. We'll search for signs of high bed bug activity like rust-colored rings on furniture, bed bug carcasses, and musty odors. Once we assess the entire situation, we'll discuss the various treatment options with you.
For our existing customers, we offer two different treatment options: heat treatments and fumigation. The fumigation treatments require the customers to leave their homes for four days, but this is the most effective way to eradicate a full-scale bed bug infestation completely.
Our heat treatments require the customer to leave their house for 12 hours, and we often suggest this treatment when the problem is confined to one or two rooms. This treatment is guaranteed for up to 30 days, so any bed bug problems that arise after the heat treatments will be covered within that window.
For new customers who call us about bed bug problems, we can offer our fumigation services as long as they are willing to leave their homes for four days. We cannot offer the heat treatments to new customers because we don't have a full picture of how well the home has been protected by ongoing pest treatments.
Protection Where It Matters Most
No matter what kind of bed bug prevention plan you decide on, our service technicians will always follow up with you to make sure that the bed bugs have not returned 10 to 14 days later. Bed bugs are some of the most frustrating pests to control, so we always double-check our work.
Our commitment to customer satisfaction always puts you and your family's safety above all else. That's why we provide the most thorough bed bug treatments in the industry, backed by our Ventura Pest Control pest-free guarantee. When it comes to the health of you and your family, don't settle for anything less than the peace of mind that comes with our proven track record and professional assurances. Give us a call at the first sign of a bed bug problem.
Learn more about our home pest control and commercial pest control services.