You might think so, to look at one. An earwig can be over an inch long and they are equipped with scary-looking, black pincers. But you needn't fear those pincers. They're not strong enough to break your skin. You also don't need to worry about earwigs biting you. While they can technically bite you, it is not likely. At this point, you might be thinking, "They're not discussing the elephant in the room." No. We're not avoiding the elephant. We're saving it for last.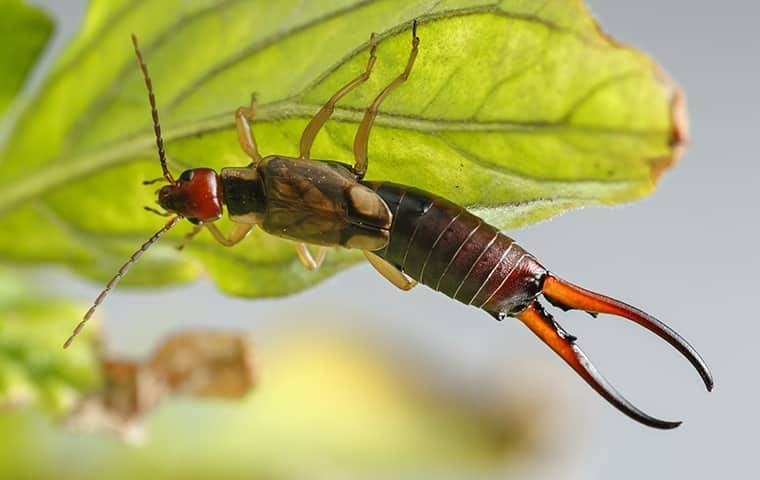 Do Earwigs Get In Your Ear And Eat Your Brains?
Yes and no—and, in that order. An earwig can definitely get inside your ear. In fact, an earwig might be drawn to get inside your ear because it likes dark, moist, tight spaces. This attraction to ear canals is likely why it got its name. But a lot has changed in the United States since this was a problem. We have a lot fewer homes with dirt floors and fewer people sleeping where an earwig could crawl on them and accidentally find its way into their ears. An earwig prefers to be near the ground and in humid or damp spaces. It isn't likely to get into your bedroom on the first floor of your home, and it definitely won't get into your bedroom if it is on the second floor or higher. But, you might have some risk if you sleep in a basement and you don't have a bed frame for your mattress.
If an earwig finds its way into your ear, it doesn't have the ability or inclination to get to your brain and feed on it. The idea that they do this stems from someone's fanciful, and somewhat dark, imagination.
Do Earwigs Lay Eggs In Ears?
No. Your ear canal is not a suitable location for an earwig to raise a family. These insects feed on decaying organic matter, which includes dead insects and rotting plants—neither of which are in your ear (we hope). If an earwig finds its way into your ear, it is likely to find its way back out. Unfortunately, this could come with some discomfort. It can be painful to have an insect in your ear canal. But, again, we must emphasize that it isn't likely that you'll ever have an earwig get into your ear.
Are Earwigs Harmless?
Almost, but not entirely. Some species of earwigs can present a risk to the plants on your property. They can damage the leaves of your plants, your flowers, and fruit. Earwigs can put holes in your vegetation and mar fruit. While certainly not "dangerous" to you or your plants, this can certainly be a problem.
Nuisance Pests
Earwigs are mostly considered nuisance pests. When they grow a population near your home, they can be unsightly to look at and they have an odor you may find repulsive. Fortunately, they typically stay outside and hang out around your plants.
Earwig Control
In light of their low threat, as well as the minor benefits they can provide, such as their assistance with the control of more destructive plant-damaging pests, targeted control is only for population reduction, not complete extermination. Typically, our team focuses on preventing entry. This is done with pest maintenance and routine barrier treatments around the home. If you're having trouble with earwigs getting inside your Ventura County home, a residential pest control program will give you coverage for nuisance pests like earwigs, while it also gives you essential protection from pests that can sting, bite, spread diseases, and damage your property.
DIY Earwig Control
If you just want earwigs out of your home, it is possible to do that by adjusting a few factors.
Address any moisture issues inside your home such as plumbing leaks.
Address humidity in your home by venting moisture from your bathroom during showers and baths and by installing dehumidifiers in damp spaces within your home.
Inspect the exterior of your home and seal potential entry points. A caulking gun and some expanding foam can get this job done expeditiously. You may need to also repair and replace items, such as weatherstripping, door sweeps, and screens.
Alter the habitat around your home to deter earwigs. Leaves, branches, logs, woodpiles, and other organic debris attracts these and other pests.
Don't Go It Alone
When it comes to pest control in Ventura County, the best choice is to invest in a residential pest control program. We have pest animals, bugs, and insects in our area. They can damage lawns, eat the wood inside our homes, spread pathogens, contaminate foods, and more. Get protected by reaching out to Ventura Pest Control. We can guide you in finding the right IPM-approved solution for your property. We are your Ventura County pest experts. Connect with us today.