Cockroaches are unsanitary pests. When they get into your home, they can make you sick. Often, Ventura County residents don't even realize the sickness they're experiencing is related to a cockroach infestation. Join us as we look at how you may detect these sneaky insects, what you should know about the health risks, and the best way to keep cockroaches away from your Ventura County home. If you need help addressing a cockroach control issue in your home, jump to the last section of this article or go to our contact page to get immediate assistance. The service team at Ventura Pest Control provides advanced, results-based pest control in Ventura County.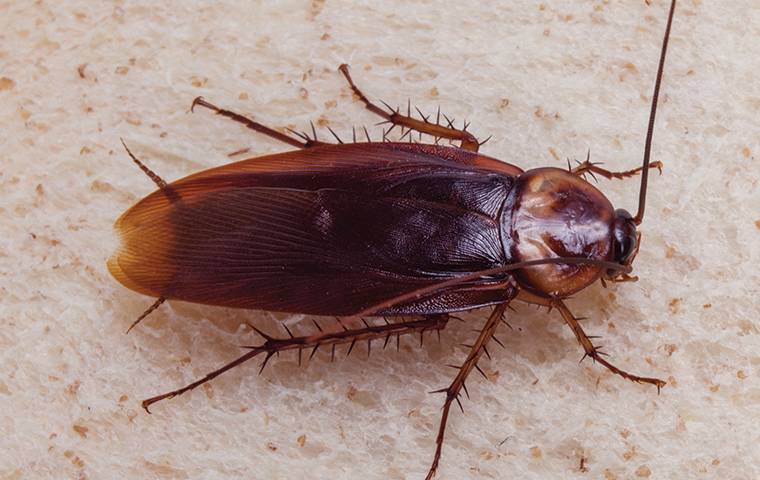 How To Tell If You Have A Cockroach Infestation In Your Home
Before you work to keep cockroaches away from your Ventura County home, it is important to determine whether or not you already have an infestation. Let's quickly look at some helpful ways to detect and evaluate cockroach activity within your home.
Droppings: The easiest way to tell that you have a cockroach infestation in your home is to look for the black specks of fecal material these insects leave behind. Why is this the best way? Why not just look for roaches in your home? Cockroaches are incredibly difficult to detect. They hide in cracks, crevices, tight spaces, wall voids, and other secretive areas. If you see cockroaches moving about in your home, it is actually a bad sign. Those roaches you're easily detecting are evidence of a severe infestation.
Roaches: According to experts, seeing a single cockroach in your home is a warning sign that there are thousands more that you can't see. Cockroaches in Ventura County are nocturnal by nature and also hide from view during the day. They're really good at it. As we pointed out already, it is rare to see them unless you have a severe infestation.
A Dead Roach: If you find a roach lying on its back, what does that mean? Is it proof of an infestation? If you have perimeter protection, not likely. If you don't, the chance of an infestation is greater but it is essential to understand what you're looking at. There is a reason that roach died. If it wasn't a pest control material, it is likely two other factors: dehydration or starvation. It is extremely hard to eliminate a cockroach by starving it. Cockroaches eat food, decaying food, food debris, pet food, hair, dead skin, paper, cardboard, fecal matter, toothpaste, and more. It is far more likely the cockroach died of dehydration. If so, that is good news. It means that your home has great humidity control. Contact Ventura Pest Control for a cockroach evaluation, just in case.
Eggs: More specifically, egg pouches, which are called oothecae. Cockroaches keep their eggs in a rusty brown egg pouch. You may find these little pouches in dark, damp, and secluded spaces. If you find more than one cockroach egg sack in your home, or cases are broken open, you definitely have an infestation.
Skins: These skins are cockroach exoskeletons. Roaches shed them as they grow from nymphs to adults. You may find them in cracks and crevices, between cushions, in pockets, and in other hiding places. An exoskeleton may look like a roach at first glance as it is the same color and the nymph breaks through the top and leaves its entire outer coating behind.
A White Roach: After shedding its exoskeleton, a cockroach nymph will look white for a short time. If you see a white cockroach, it is evidence that you have a population of roaches maturing from nymphs to adults in your home.
Continued Appearances: If you've taken the time to pest-proof your home and you're still seeing cockroaches or warning signs indoors, it is evidence that you still have an infestation. What you're likely seeing are cockroaches that are not getting into your home from the outside but appearing in your home after hatching indoors.
A cockroach infestation appears in a variety of ways. You may openly detect these signs or you may need to search for them. When you detect an infestation, take a moment to consider the risks of having cockroaches in your home. As you do, it will provide insight into how you can keep them away from your property.
Cockroaches In Your Home Are A Major Risk To Your Health
There are many ways cockroaches can present a risk to human health. Some you may not realize. Let's quickly go down through them and discuss how addressing these risk factors can help you with cockroach prevention as you work to guard your health.
Cockroaches get into food packages and contaminate the contents, which can lead to stomach illness. You can guard against this by storing food in sealed containers. Doing so will trap the scent of food inside and help you make your home less inviting to roaches.
Cockroaches climb in unsanitary places, such as your bathroom. In your bathroom, cockroaches come in contact with unsanitary things and spread microorganisms that are harmful to you. A deep cleaning of your bathroom can remove hair, dead skin, fecal matter, toothpaste, and other potential food sources, making your bathroom less interesting to cockroaches.
When cockroaches shed their skins in your home, these can trigger allergies. Cockroach infestations are found to increase hospital visits for asthma-related symptoms. When you remove cockroach skins and fecal matter, you remove materials that lure roaches into your home. Roach feces contain pheromones and these may also be present on shed skins. Pheromone scent attracts other cockroaches.
Cockroaches climb in dirty trash and then climb around on counters, cutting boards, plates, silverware, toothbrushes, and more. When you properly manage trash, you reduce the scent of decaying organic matter that lures roaches into your home.
A danger that is not often considered is the use of over-the-counter cockroach control products. These can present a risk to your family when inappropriate materials are used. When materials are misapplied, they may also inspire cockroach problems. What occurs is cockroach nymphs shed their skins and develop new skins that are resistant to the material, making them harder to keep out of your home.
All of these are tips you can apply indoors and outdoors. But there are many more attractants outside your home. It is essential to consider them if you want to keep cockroaches out of your home.
How To Identify And Remove Factors That Attract Cockroaches
When cockroaches explore the exterior of your home, they can't help but explore cracks that lead them into your home. Roaches are thigmotactic. This means that they like to squeeze into spaces that are restricting, where they are able to touch hard surfaces on all sides. You can deter roaches from getting into your home by sealing entry points, but these are resourceful insects. They're not easy to exclude with physical barriers. Along with pest-proofing, you need to also reduce attractants so you have fewer cockroaches attempting to get inside.
Cockroaches are attracted to the scent of garbage. A clean trash receptacle and a sealed cover are strong deterrents.
Cockroaches require moisture. A damp perimeter next to your home will promote activity. Cleaning gutters is the first step in preventing oversaturation in this critical zone.
Cockroaches hide under objects to shield themselves from the sun. Removing objects next to your home will reduce roach activity.
Cockroaches hide under leaves and other organic debris. Yard work keeps your yard clear of these hiding places next to your home.
Cockroaches feed on feces. It is gross, but true. If you have a dog, make sure to keep pet waste cleaned up in your yard.
Cockroaches eat paper and cardboard. If you have a pile of pizza boxes, roaches will thank you for it. Store this material in a plastic bin with a cover.
Cockroaches nibble on clothing and natural materials with cellulose. Keep all junk in storage containers, particularly outside your home.
Cockroaches eat human food long after we're willing to eat it. If you have a dirty grill, you may attract the attention of cockroaches.
Cockroaches eat dead insects. Light attracts insects, so keeping lights off in your yard can reduce insect populations and prevent them from dying on your property and becoming food for roaches.
Now that you know how to keep cockroaches away, what can you do about a cockroach infestation in your home? We hope you'll contact Ventura Pest Control for assistance. We don't just eradicate the roaches in your home, we provide ongoing protection to keep roaches out.
Contact The Pros For Total Cockroach Eradication
Roach control begins with a science-based strategy that locates and eliminates the cockroaches in your home, using a multi-pronged strategy. We apply known products according to strict protocols. Along with addressing indoor cockroaches, we use pest-proofing to keep roaches from continually entering your home and apply an exterior treatment to add even more protection. There is no better way to totally eradicate roaches. Would you like to learn more about our process or schedule a service visit? We'd love to hear from you. The service team and Ventura Pest Control is committed to providing Ventura County residents with industry-leading pest control solutions, and we're not happy unless you're happy. Connect with us today.