Cockroaches live on every continent except Antarctica and infest a surprising number of homes in the United States. This guide will teach you how to identify local cockroaches, why an infestation is a major health risk, how to get rid of factors that attract cockroaches to your home, and when you should call in a Ventura County pest control company like Ventura Pest Control.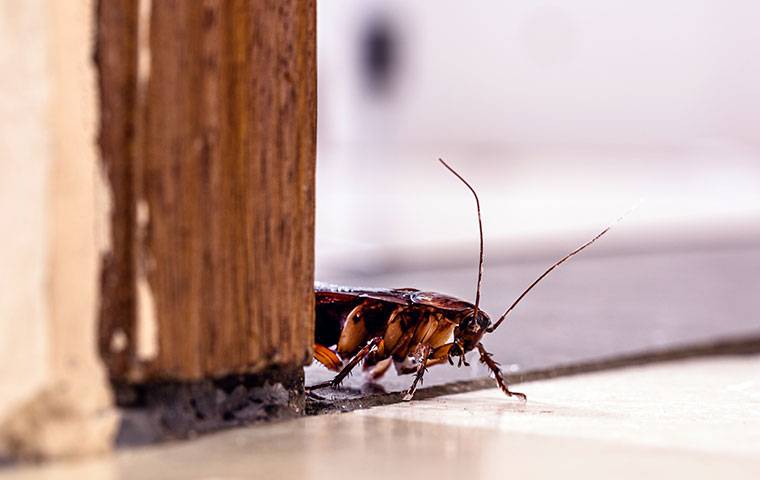 How To Identify Common Types Of Cockroaches
Before you learn how to get rid of cockroaches in Ventura County, you need to know how to identify them. There are four common types in Ventura County:
American cockroaches are large, growing from 1 ¼ to 2 ⅛ inches long. They're mahogany brown with a figure eight on their head and leathery wings they use to glide from higher to lower elevations.
Turkestan cockroaches are smaller, growing to just over an inch long. The females are dark brown with cream markings, while the males are bright reddish-orange, with long, yellow wings they use to glide and attract females.
Oriental cockroaches grow to be one inch long. They're black and shiny, and they resemble beetles without wings.
German cockroaches are the smallest but also the most common. They're about ½ to ⅝ inches long, medium brown, and have two parallel black markings on their backs.
While the species may differ in size and appearance, all cockroaches bring hazards into your home.
Why A Cockroach Infestation In The Home Is A Major Health Risk
Cockroaches in Ventura County bring two health hazards with them: diseases and allergies. They are known carriers of at least 46 pathogens that can infect humans and their pets, including:
Cholera
Dysentery
E. coli
Giardia
Gastroenteritis
Listeria
Salmonella
Typhoid fever
German cockroaches are the most common species to cause allergic reactions from proteins in their feces, saliva, and sputum. Still, all cockroaches can cause allergies, especially in children and older adults with asthma. However, anyone can develop an allergy to cockroaches at any age. That's why it's important to know how to contact your local Ventura County cockroach control company: Ventura Pest Control.
How To Remove Factors That Attract Cockroaches To Homes
It is important to know how to prevent cockroaches to avoid getting them in the first place.
Here's how to remove factors that attract cockroaches to your home:
Keep your kitchen clean. Wash your dishes as soon as you're done eating instead of letting them pile up in the sink. Wipe down your counters often. Sweep or vacuum and mop regularly. Take out your kitchen trash every evening.
Keep your outdoor garbage cans, recycling bin, and compost pile at least six feet away from your house, and put tight-fitting lids on all of them.
Clear out the clutter. Cockroaches can live on cardboard, newspapers, books, hair, toothpaste, soap, wallpaper, and glue.
Fix leaky pipes and fixtures both inside and out. Cockroaches can live for a month without food, but only a week without water. Dry off your sink and shower when you're done using them.
Repair the frames and screens of your windows and doors. Replace door sweeps that are worn out. Fill in any cracks or crevices you find in your foundation, install screens over weep holes and vents, and cap your chimney to deny cockroaches access into your home.
Now all you need to know is how to get rid of cockroaches in your Ventura County home for good: Contact Ventura Pest Control.
Call The Pros At The First Sign Of Cockroaches In Your Home
Ventura Pest Control is the largest, oldest, local, and family-owned full-service pest company in all of Ventura County! The reason for our 62 years of success? We consistently wow our customers with our extraordinarily friendly, professional, and competitively priced services! Reach out today so we can help you get rid of cockroaches, and learn more about our residential and commercial pest control services in Ventura County.