Carpenter bees are a consistent problem in the Ventura County area. Carpenter bees love the safety and security urban homes offer them and readily build their nests in houses when they can. Carpenter bees in Ventura County can cause severe structural damage to your home and property. Carpenter bees bore into wood to build their homes. Over time, the damage can be severe enough to force you to get expensive repairs performed. If carpenter bees have become interested in your home, carpenter bee pest control is critical to avoid the damage they can cause.
If you need pest control in Ventura County, the area's company of choice is Ventura Pest Control. We have a substantial history of customer satisfaction, and all it takes is one call to get us on your side.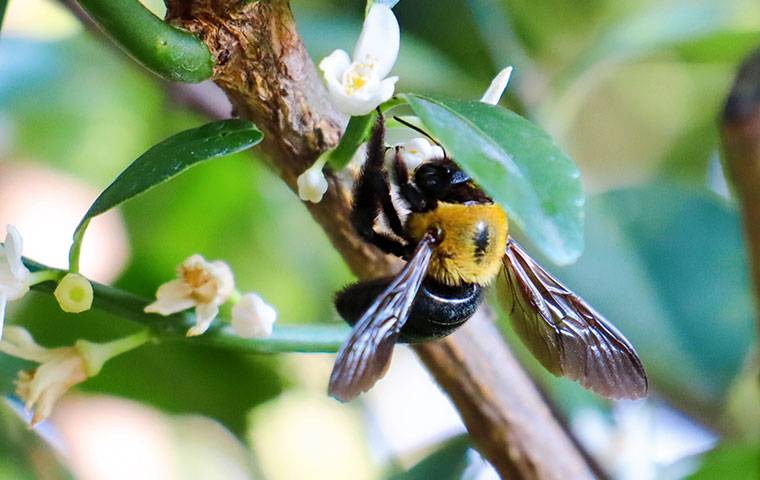 Carpenter Bees: Habits And Behaviors
Carpenter bees in Ventura County do not live in large hives composed of hundreds or thousands of individuals. Instead, they prefer to go about their lives in a solitary fashion. They bore tunnels into wood to build their homes but feed on flowers. They are large, considerably larger than bumblebees, though they look like them. Carpenter bees are capable of stinging, but they are not aggressive by nature. Getting a carpenter bee to sting requires a lot of provocation, and their sting produces symptoms similar to smaller wasps and bees. Once they find a place they like, carpenter bees return to these places year after year to breed unless you initiate carpenter bee removal techniques.
Ventura Pest Control professionals know what it takes to handle carpenter bees. Call us today, and let us help you protect your home.
Carpenter Bees Will Only Sting If Provoked
Although carpenter bees are capable of causing severe damage to the structures of your home, they are not overly aggressive. Where hornets and wasps can be extremely aggressive while defending their hives, carpenter bees generally seek to avoid confrontation. They do have the ability to sting, however, if severely provoked or threatened. The severity of their stings is no worse than any stinging flying insect, even though carpenter bees are larger than many.
Having problems with carpenter bees? Ventura Pest Control can help you get rid of carpenter bees in Ventura County. Drop us a line today so we can help you with all of your pest control needs.
Natural Ways To Prevent Carpenter Bees Around The Yard And Home
Here are some simple natural ways to help decrease your chances of having to deal with carpenter bees on your property:
Paint exterior wood: Carpenter bees are highly attracted to weathered wood and will actively seek to build their homes in it. Painting, sealing, or staining exterior wood can help discourage carpenter bees from coming and staying.
Repair wood damage: Carpenter bees are attracted to things like nail holes or wood damage because they make boring into the wood easier. Quickly repair all holes and other damage to exterior wood to prevent carpenter bees from taking advantage of damaged areas.
Seal garbage: Carpenter bees bore into wood to make their homes but eat other things for food. Exposed garbage can be highly attractive to many types of pests, including carpenter bees. Seal garbage tightly to discourage carpenter bees.
Finally, call Ventura Pest Control for help with carpenter bees. We have experience and skill with carpenter bee treatments.
The Pros To Know For Total Carpenter Bee Control In Ventura County
Carpenter bees can be a complex problem to solve. They have habits and behaviors that are distinct from other types of bees, wasps, and hornets, and they are associated with the ability to cause considerable property damage. Carpenter bees respond poorly to DIY pest control efforts and can become persistent pests without effective stinging insect control. If you want to eliminate carpenter bees for good, Ventura Pest Control can help. Call us today. You will be glad you did.