Belonging to the order of Hymenoptera with certain types of ants and wasps, bees are small stinging insects in Ventura County that build massive nests or colonies. In our area, bumblebees and honey bees are among the most prevalent types that are commonly seen navigating through patches of flowering vegetation during the warmest months of the year. Unfortunately for area homeowners, these creatures often build their nests in the yard areas or within voids or crevices adjacent to structures, which they will defend by delivering a possibly painful sting. Why do we need honey bees in the ecosystem? Bees represent a key mode of transporting pollen that is beneficial in developing many crops intended for consumption by humans and many useful products.
Other stinging insects that are found in this region include wasps, Africanized bees, and European bees, all of which build nests in different settings. For example, carpenter bees in Ventura County will build their nests within wooden structures that they bore holes into. Others will establish their nests in trees, in gutter systems, below roof overhangs, and many other locations. Honey bees are a common invader during picnics, barbeques, and other outdoor activities. This species is largely attracted to sugar, such as in fruits, beverages, and desserts.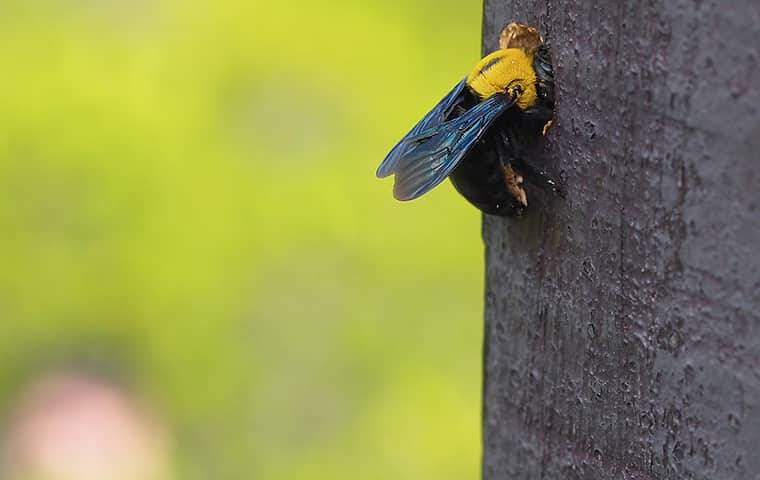 Pest Control In Ventura County
Are you seeking bee pest control near you? The professionals know how to control bees and wasps around your house and how to repel bees. A licensed exterminator can remove these pests in a manner that ensures safety.
What Do Bees Look Like?
The majority of bees range from 1/10 of an inch to one inch long. Honey bees appear in colors including yellow, brown, and black with different markings. Bees have a segmented body with wings and have antennae, legs, a thorax, an abdomen, and a stinger. Wasps have a thin "waist-like" segment of their body that typically distinguishes them from bees.
Bees Are Beneficial
Why do we need honey bees in our physical environment? As bees travel among flowers, they gather pollen and nectar that is brought back to their hive. Nectar is blended with enzymes that can generate honey and beeswax. Bees are an integral part of many agricultural operations in today's economy.
Bees Can Be Dangerous
When bees and other stinging insects perceive a threat from a human or animal, they will often attack. Unlike wasps, bees can only deliver a single sting; however, they often attack in swarms. The venom that these insects possess can cause very mild symptoms, but some people will experience potentially serious allergic reactions that require medical attention. Because of safety concerns, attempting to remove a nest yourself is generally discouraged.
Let The Professionals Help
Are you struggling with home pest control or how to repel bees and wasps around your house? Ventura Pest Control is a properly licensed Ventura pest control operator who complies with the local Ventura County Agricultural Commissioner to provide services in applications including home and garden, institutional, and structural settings. We also comply with the California Department of Pesticide Regulation's guidelines for eco-friendly operation.
Experienced Ventura County Pest Control Company
For more than 60 years now, the trained specialists with Ventura Pest Control have been successfully eradicating pests for residential and commercial pest management customers. In addition to providing bee pest control near you, our team is well-equipped to oust troublesome creatures, including ants, bed bugs, rodents, and others that enter properties and may create health risks.
Those who are experiencing pest-related problems are encouraged to contact our office for a detailed property inspection. Keep in mind that our technicians are often available for same-day and emergency response for those with immediate service needs.