Roof rats (Rattus rattus) are one of the worst types of rodents to have in your house. Sometimes called black rats, roof rats are sleek and agile. They have a bodyweight of 5-7 ounces and pointed muzzles. Their tail reaches at least to their muzzle and their ears cover their eyes when folded over. The tail is covered in dark, fine scales. This contrasts with the other common type of rat in Ventura, the Norway rat (Rattus norvegicus). Norway rats are large, robust rats that weigh in at 7-18 ounces. Their tails are shorter than their body and are covered in scales. These scales are dark above and pale below. Norway rats have a blunt muzzle, and their ears would not cover their eyes if bent over.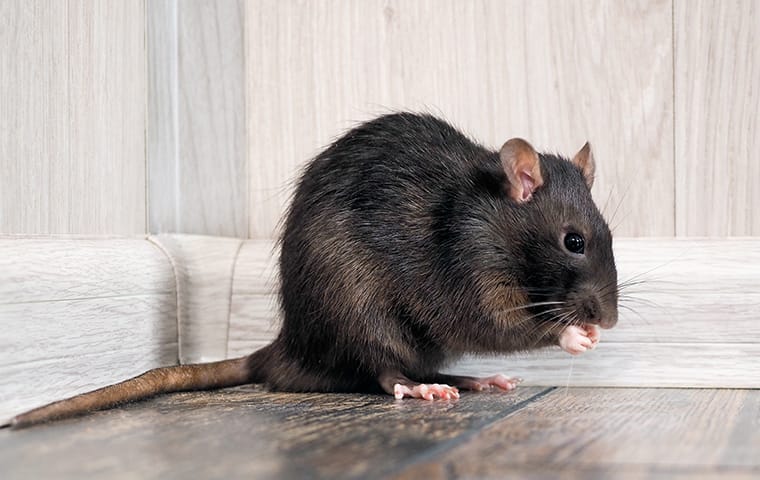 Roof Rats Are Dangerous
Roof rats destroy property, carry diseases, and ruin food. They like to climb and are often found in the attic and walls in the upper parts of a house. Rats must chew continually to keep their front teeth worn down. Roof rats like to chew on wood and can chew holes in the eaves and roof to get into a house. They also chew doors, corners, ledges, and wall material. Roof rats foul and shred insulation in the walls and attic when they construct their nests. They occasionally cause house fires by chewing on electrical wires, causing them to short out.
Roof rats can carry leptospirosis, rat-bite fever, tularemia, and salmonellosis (food poisoning). They can carry fleas infected with the plague, but do not usually infect people with that in Ventura. Salmonella can be spread when rats walk across food or on a surface food is placed on, and then the food is consumed by humans.
Preventing Roof Rats From Entering Your Home
Roof rats are hard to get rid of once they are in your house. It is far better to prevent them from entering your house in the first place. These tips are aimed at excluding rats from your house and depriving them of food and water inside the house. Good sanitation won't keep roof rats out, but bad sanitation will invite them in.
Make sure there are no water leaks around the outside of the house or inside.
Wipe up food spills immediately.
Store food in metal rat-proof containers.
Make sure that the kitchen trash is in a metal trash can with a tight-fitting lid.
Take the trash out as soon as the trash can is full.
Make sure outside trash cans and recycle bins have tight-fitting lids.
Roof rats climb. They will use trees to get onto your roof. They will then enter through the chimney, holes in the eaves or roof, or other openings there.
Prune back any tree branches that come closer than 3 feet to your house.
Keep shrubs and thick vegetative growth at least 2 feet from your house.
Install a chimney cap to keep them from coming down the chimney.
Seal all cracks, crevasses, and holes with steel wool held in place with caulk.
Make sure the holes around plumbing, electrical wires, and cables are sealed.
Got Rats? Get Professional Help
Once roof rats are in your house, they are very difficult to evict. Get professional help. Call Ventura Pest Control. We offer a free rodent inspection. When you call us, our trained technician will come and inspect the property, inside and out. After we have identified that you have roof rats, we will make a plan to get rid of them and share the plan with you. If you give the go-ahead, we will fix all the places the roof rats are getting in or have the potential to get in. We then place traps throughout the house. After the roof rats are gone, we remove the traps. We are so sure we can get rid of the roof rats that we give you a 1-year guarantee. Give Ventura Pest Control a call today at (800) 474-7378.