Ventura County has beautiful beaches, coastal hills, and, unfortunately, plenty of mosquitoes. The area provides these biting pests with standing water and a mild climate that allows them to thrive and reproduce. Still, you can use several prevention strategies and mosquito treatments to reduce their populations and protect yourself and your loved ones.
If mosquitoes have started reproducing on your property, here's how to identify them quickly, learn the dangers they can pose, discover eco-friendly and practical prevention tips, and find out how Ventura Pest Control professionals can eliminate them long-term with strategic mosquito control in Ventura County.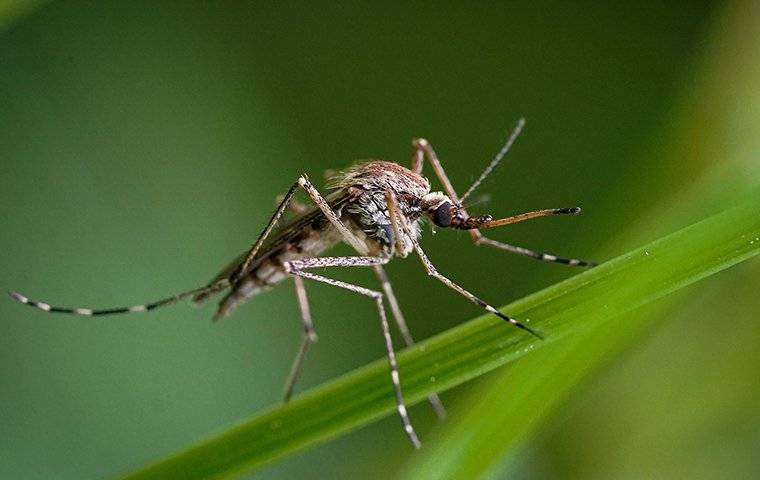 Mosquito Or Not? How To Identify Them At A Glance
Identifying mosquitoes at a glance is essential for the safety of you and others on your property. Here's how to identify them accurately:
Mosquitoes are small insects.
They typically measure 1/8 to 1/4 of an inch long and have elongated bodies.
Mosquitoes have two pairs of wings that are usually clear with dark scales, giving them a distinct pattern if you examine them against the light.
They have long, slender legs that are excellent for agile flight and landing on various surfaces.
Mosquitoes have a needle-like proboscis. They use it to pierce our skin and feast on our blood.
Most adult mosquitoes have a gray or brownish body.
Mosquitoes are active during dawn and dusk. You will commonly find them near standing water, from large ponds to tiny puddles where they lay their eggs.
Mosquitoes produce a characteristic high-pitched buzzing sound you can hear when they fly nearby.
Not all flying insects are mosquitoes, but proper identification is crucial for total mosquito extermination and preventing mosquito-borne diseases and other dangers.
Mosquito Dangers: Itchy Bites, Allergic Reactions And Diseases
Mosquitoes can pose several dangers to us. You are probably familiar with their irritating and itchy bites. The discomfort is due to the chemicals in the saliva they inject while feeding on blood. Scratching them can lead to secondary infections. Additionally, you may experience allergic reactions or more severe symptoms, including anaphylaxis.
Mosquitoes are also vectors of various diseases. No one wants to contract the West Nile virus or any of the multiple forms of encephalitis they can carry. Still, mosquitoes can pick up pathogens when they feed on an infected person and then transmit them to us later.
Preventing mosquito bites is crucial for reducing these risks. Read on for some eco-friendly and effective strategies.
Mosquito Prevention: Eco-Friendly And Effective Tips
Mosquito prevention can be effective and eco-friendly for minimal environmental impact while protecting against diseases. Here are some tips you can start using now:
Remove standing water: Mosquitoes can breed in tiny amounts of stagnant water; regularly inspect and eliminate potential breeding sites like clogged gutters and buckets.
Natural repellents: Using mosquito-repelling plants like citronella, eucalyptus, or lavender can provide additional protection with more traditional treatments.
Screen doors and windows: Install screens on doors and windows to prevent mosquitoes from coming in while allowing fresh air to circulate.
Avoid peak activity times: Mosquitoes are most active at dawn and dusk; try to limit your time outside then or wear long sleeves and pants.
Use fans: Mosquitoes can't fly well in a strong breeze. Using fans in outdoor spaces can create airflow that makes it difficult for them to land on you.
These eco-friendly tips are excellent at reducing mosquito populations around your home. Still, during peak mosquito infestation season, you can count on Ventura Pest Control to keep them away with safe and effective mosquito control services.
Effective Mosquito Control: How Professionals Ensure Lasting Results
Professional mosquito control is critical if you want lasting results through comprehensive and targeted strategies rather than a short-term fix.
Our mosquito exterminators will assess your property to identify breeding sites and potential problem areas. We will also focus on eliminating or modifying standing water sources where these unwanted invaders lay their eggs.
When necessary, we also have a range of targeted treatments to stop infestations that we apply using safe and precise methods for sustainable and effective results while minimizing environmental impact. We may also suggest modifying your landscaping to deter mosquitoes from resting and breeding.
Combining these approaches can effectively reduce mosquito populations, decrease the risk of disease transmission, and provide long-term relief from these biting pests. Call Ventura Pest Control to discover how we can benefit your property.
With over 60 years in the industry, Ventura Pest Control is the leader in mosquito control in Ventura County. Get started today with reliable mosquito control near you.