Gophers invading your Ventura County yard is a recipe for disaster as this pest creates damage and presents serious safety risks to those on your property. Gopher control provided by Ventura County pest control is the best way to combat infestations of this burrowing nuisance rodent.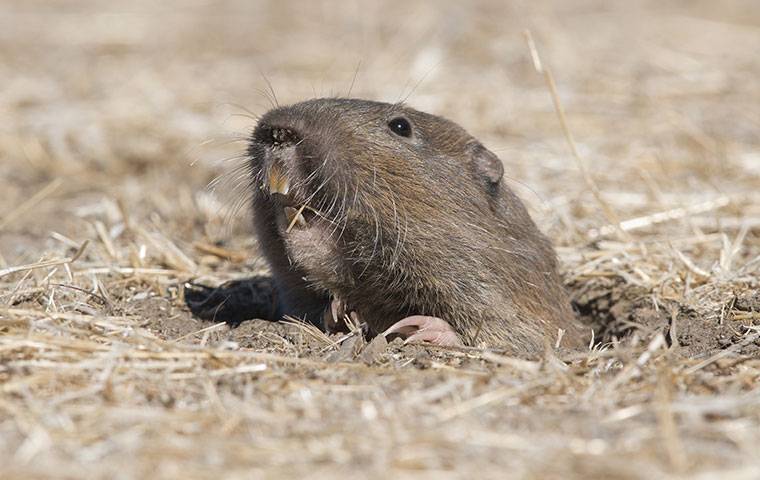 How To Tell If Gophers Are In Your Yard?
There are a few distinct ways that gophers make their presence in your yard noticeable, and it is crucial to keep an eye out for these signs if you want to remove a gopher problem the moment it starts. Waiting to treat gophers will only lead to more difficulties in eradicating them and widespread yard destruction.
Dirt mounds are one of the most easily noticed signs of gophers. They create these mounds by tunneling and stacking up dirt around the entrance of their tunnels. Dirt mounds will have a round or oval shape and eventually plug the exit hole into the gopher's tunnel.
Other signs of gopher infestation include damaged or collapsed vegetation or plants due to damage at the roots, areas of your yard that feel spongy or soft when walked on due to underground gopher tunnels, and dirt trails or displaced dirt that appears across your yard.
What Attracts Gophers To Your Ventura County Yard?
Gophers are attracted to Ventura County yards when there is plenty of food, water, and shelter. In the case of gophers, access to shelter includes a yard full of soft dirt they can easily tunnel through and create their underground burrows. Food that highly attracts gophers includes fruit and vegetable gardens, plants with large or underground roots, and food waste that is poorly protected.
Moisture or drainage problems in your yard may also attract gophers as these can soften up dirt and provide pools of excess water where gophers may want to drink. Gopher pest control in Ventura County can help you identify the factors bringing gophers to your yard, specifically helping you remove or reduce these items.
What Is The Best Way To Get Rid Of Gophers?
The best way to get rid of gophers isn't DIY gopher control – it's professional, humane gopher control combined with expert gopher prevention steps. Here are some of the most straightforward prevention steps that will keep these rodents far away from your Ventura County yard:
Place plastic netting over seedlings to stop gophers from chewing at them and ruining their growth.
Bury mesh or aluminum sheeting approximately two and a half feet into the ground prevents gophers from reaching vegetable gardens or other plants around your yard.
Grow gardens in raised boxes to stop gophers from digging up under the ground to chew on the bases of plants.
Use strong-scented plants such as sage, daffodils, and thyme around your yard to deter gophers from entering in the first place.
Remember, don't hesitate to contact Ventura Pest Control if you need further help preventing and removing gopher problems from around your yard.
Complete Wildlife Pest Control Services In Ventura County
For complete gopher control in Ventura County that you can rely on, reach out to Ventura Pest Control today. Our team will inspect your property to narrow down your specific gopher issues and then work with you to implement the most effective, humane, and reliable gopher treatment. We use a combination of baits, traps, and our Gopher X Machine to keep this rodent away from your property and your lawn safe from gopher damage.