We get calls all the time to deal with bed bug infestations in Ventura County. These insects aren't surprising or mysterious to us. We're used to them, but we know for some of you, bed bugs aren't easy to understand. You may only know enough about bed bugs to fear them. Today, we hope to lessen your fears and help you get a better grip on what to expect from bed bugs when they find their way into your home. We'll look at common misconceptions about what bed bugs look like, where bed bugs hide, and the warning signs these insects leave for you to find. Once you know how to identify bed bugs, we'll look at why bed bug infestations are guaranteed to worsen over time—but also why you don't need to fear having an infestation. We'll end by discussing how to prevent bed bugs and what to do when you find these pests in your home. If you believe you have an infestation, the facts provided here will help you tell for sure. Sometimes, people think they have bed bugs when they actually don't. Before you reach out to us for professional bed bug pest control in Ventura County, it is best to make sure you have them. At any point, feel free to jump to our contact page and connect with us for local pest control for bed bugs in Ventura County. Our friendly and experienced technicians are happy to help.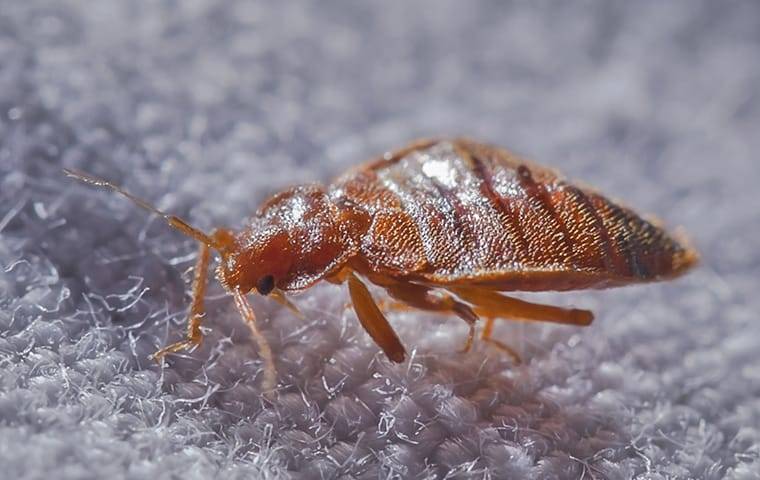 Early Warning Signs Of Bed Bugs
The best early warning sign of bed bugs is to see these insects in your home. Yes, you can see them. They are not microscopic pests. You may think they are because they are so good at hiding. But bed bugs are visible to the naked eye, despite your inability to find them.
What do bed bugs look like? They vary in appearance. But there are a few facts that can help you tell for sure that you've found one.
Bed bugs start life as six-legged insects. These newly hatched insects are called nymphs. An immature nymph is a light tan color—until it has had its first blood meal. It is an oval insect and about 1/26 of an inch long, which is not much more than a speck.
If you detect a nymph after it has had a meal (or while it is having a meal on your skin), it will appear red. Sometimes we get calls to deal with red bugs in Ventura County homes, but, thinking we're going to find clover mites, we find bed bugs instead.
After an immature nymph digests a blood meal, it will start to have black coloration visible in its abdomen. That is the fecal matter inside the insect. Since the abdomen is larger than the head and thorax together, a bed bug can look like a black insect in certain lighting.
Bed bugs grow tanner as they mature through their instars of development and eventually become rusty brown.
An adult male bed bug resembles an apple seed in shape, size, and color. An adult female has an abdomen that is more rounded and less pointed.
A bed bug that has recently fed will have a bloated shape that is not rounded or flat like an apple seed.
If you move a couch cushion and notice something brown or black disappear into a seam, pocket, or rip, you've likely seen a bed bug. These insects hide from the light and prefer to hide in tight spaces. It is generally difficult to find them. As you search, it is essential to look for other warning signs that let you know bed bugs are in the area.
Black spots on fabrics or black streaks on hard surfaces.
Brown stains on fabrics.
Tiny yellowish skins.
Tiny white eggs.
A smell of coriander.
When you find bed bugs, the next step is to consider what to do about them. You should know that these insects aren't dangerous. There are currently no reported cases of disease transmission from bed bugs to humans. It is far more of a concern to find ticks or fleas in your home. Those are biting insects that have the potential to make you sick. The primary concern with bed bugs is that they grow a population and infestations worsen over time. Let's take a look at why this is the case.
A Bed Bug Infestation Only Gets Worse With Time
When bed bugs get into your home, you can expect that they will bite you. In fact, you can expect them to leave many bites on your skin. Each bed bug prefers to bite three times. A handful of bed bugs can leave fifteen bites on you in one night. Five bugs quickly turn into many more as a female can produce one to seven eggs a day for about ten days after taking a blood meal.
While alarming, it isn't the reproductive speed of bed bugs that guarantees that an infestation will worsen over time. The real issue is how difficult bed bugs are to control. When you find bites on your skin, you'll want to do something about them, right? You're not going to let bugs continue to bite you—yet bite you they will. You can throw everything but the kitchen sink at these pests and have them continue to bite you. Why? There are a few reasons:
Bed bugs are adaptable insects. When exposed to harmful materials, they shed their skins and create new skins that protect them more efficiently. The change is on a genetic level. That means they share the new skin "technology" with their offspring. If you use common bed bug control materials, you'll likely have little or no success.
Bed bugs hide in strange places. Do you know that one of their favorite spots to hide is underneath the feet of bed frames and nightstands? Yup. They squeeze right under. They also hide in odd places you may not expect, such as couches, chairs, alarm clocks, computers, pianos, and more.
Bed bugs stay tucked in tight spaces and dark voids. If you use a topical material, you won't get deep enough to control bed bugs.
Bed bugs release a scent when they die. If you eliminate a bed bug, that one bug will warn the others to avoid the area.
It is far better to deal with bed bugs "before" they get into your home. Let's look at some easy tips to help you do that.
Easy Tips To Prevent Bed Bugs From Catching A Ride Into Your Home
Bed bugs are hitchhiking pests. They don't live outside in your yard. They go from one indoor environment to the next. You can stop them from doing this if you get the drop on them.
Always perform a quick inspection when you spend the night away from home, and teach your kids to do the same when having sleepovers. Look for black or brown spots on fabrics, shed skins, white eggs, or tiny tan-colored nymphs.
Protect your clothing. Bed bugs are attracted to fabrics that have touched your skin. Store laundry items in a sealed plastic bag.
Protect your luggage. Bed bugs can smell you on the stuff inside your bags. They're also prone to squeeze into tight spaces. Store your bags in a sealed plastic bag or up high.
When opening your luggage, use a luggage rack if one is provided. Doing so will help prevent bed bugs from crawling in when your back is turned.
Run all your clothing through a hot, soapy wash and a dry cycle when you get home. Soap dries bed bugs out, and high heat eliminates these pests in all stages of development.
Always check used furniture before bringing items into your home. Also, check household goods that have a void within. Bed bugs hide near places where people sleep, sit, or lounge. A computer chair or computer are perfect hiding places.
Keep a watchful eye and take steps to prevent bed bugs from coming home with you, and you may never have to deal with an infestation in your home. If you get an infestation, here's what you should do.
Always Call In The Professionals When Dealing With Bed Bugs
It is so easy to lengthen your suffering when it comes to addressing bed bug infestations. These pests have been living with humans since humans dwelled in caves. They are almost exclusively indoor pests. If they were easy to control, they would have gone extinct by now. But they're alive and well. If you find them alive and well in your Ventura County home, contact Ventura Pest Control. We can help you find an appropriate solution to deal with those irritating insects. Reach out to us by phone or through our contact page to request a service visit. We provide industry-leading pest control solutions. Don't let the bed bugs bite! Get help dealing with these elusive and adaptable pests.