Have you used the phrase "I'm glad that's in my rearview mirror"? Perhaps you said it when you completed a work project that involved long nights, many meetings, and pressure from the boss to get it done. Maybe you said it when you graduated from high school, college, or a trade school. Maybe you mumbled when you completed the final round of medical treatments.
Whatever the case, there are instances in life that we are happy to see relegated to the past.
When ants invade our homes, we want to be able to say good riddance to them. We desire to avoid the embarrassment of watching ants walk across the dining room table while enjoying dinner with guests. We don't want ants walking over the food in the fruit bowl on the kitchen countertop.
If you have an ant congo line traveling through your kitchen or ants encircling the garbage can, you need ant control in Ventura from Ventura Pest Control. We are the largest, oldest, family-owned local pest control company in Ventura County. Our friendly, professional service technicians have removed ants from local homes since 1959. We take pride in our ability to offer competitively priced services. Please keep reading to learn how to stop the current ant invasion and prevent future ones in your Ventura County home.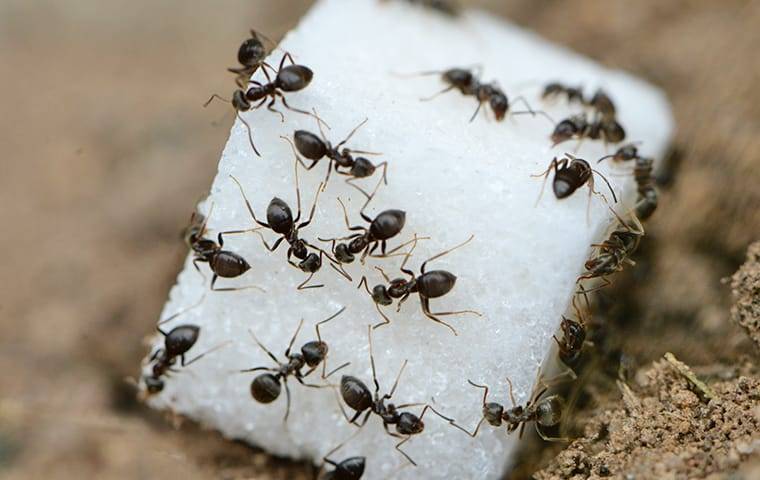 Characteristics Of Common Ants
Ants are anthropods with a segmented body, an exterior skeleton (exoskeleton), and jointed appendages. They share this classification with arachnids (spiders) and crustaceans (shrimp); however, ants are different from their fellow phylum members because they belong to the Insecta class, the largest group in the phylum Arthropoda.
Unlike the two-part bodies of spiders, ants have a head, thorax, and abdomen, with one of the most notable characteristics being a narrow waist. If you have seen ants scaling a verticle masonry wall and wondered how they seemingly defied gravity, it is because they have six jointed legs with tiny claws at the base of their feet. Like other insects, ants have two antennae; however, their antennae are clubbed or bent, unlike their fellow termites and bed bugs.
Ants live together in multi-generational colonies where members cooperate by caring for the offspring, ensuring the group's well-being, and dividing labor duties between reproductive and non-reproductive groups. The queen ant is the founding member of the nest.
Queen ants begin their quest as flying (alate or swarmer) or non-flying reproductive ants from another nest. Ant nests typically have a sterile worker class, which physically expands the nest and provides food for the offspring and the members, sterile soldier ants (some species) larger than worker ants, and a reproductive class. In most ant species, the reproductive ants have wings and fly from the nest in the early spring to begin new colonies. The males and females mate multiple times during their flight. After mating, males drop to the ground and die while the females continue their journey until they find a suitable nesting location.
The future queen burrows into the dirt and produces eggs, then nurses the offspring (initially sterile worker ants) when they hatch. Once the colony matures, reproductive ants are born, and the cycle starts over.
The primary problematic ant in Ventura County is the Argentine ant. These ants have a 1/16 to 1/4-inch dark brown to black body. Unlike most species, their reproductive members do not have wings. Instead, they mate while in the nest, so a colony has additional queens in addition to the founding queen. Entomologists estimate that an Argentine ant nest has 15 queens for every 1,000 workers.
When an Argentine ant colony feels threatened, the secondary queens leave the group with an entourage of sterile worker ants to form a nearby satellite colony, creating a network of interconnected nests. These nest networks may contain millions of members and can expand to cover an area the size of a city block. From a pest control perspective, if you use the wrong treatment method on these ants, you may have more nests at the end than when you began.
Argentine ants deposit pheromones to guide fellow ants to food and water sources. The result of ants following these chemical trails is long lines of Argentine ants traveling up buildings and trees into homes. Argentine ants prefer sweets but will increase their protein intake during their reproductive seasons (spring and summer).
Another characteristic of Argentine ants is aggression. They do not play well with other ant species and will attack new ants moving into the area. These aggressive ants also attack poultry chicks and beehives. Most ants, including Argentine ants, prefer to live in moist environments near water heaters, leaky plumbing fixtures, potted plants, etc., in basements, bathrooms, laundry rooms, kitchens, and other areas with higher humidity.
The good news is that Ventura Pest Control provides ant control near you. We can stop ants from ruining a dinner party or a relaxing night at home.
Ants In The Home Can Be A Bigger Problem Than You Think
When we were children, we thought the best things came in huge packages, but as we mature, we realize that tiny containers may have even more value. Ants are small, but that does not mean they can't cause problems in our Ventura County homes.
All ants are a nuisance when they enter into a house. They create embarrassment for the homeowner, make you feel you don't maintain a clean house, and are annoying when you throw out the pet food because they are in the dog bowl. Because of their size, ants can infiltrate food products in poorly sealed containers and other spaces throughout the house.
All ants contaminate products in the home. Ants indiscriminately walk over sewage, trash, and dead animals while foraging for wood. As they travel over these polluted surfaces, the claws on their feet pick up surface bacteria. When they enter homes, the bacteria transfer to surfaces and contaminate them. Ants do not spread disease (except pharaoh ants), but on the other hand, you don't want to eat food after ants have walked over it.
Although not as problematic in Ventura County as Argentine ants, carpenter ants can cause structural damage to homes. These ants bore smooth tunnels deep into damp wood in the crawl space and basement. Several years of a carpenter ant infestation may weaken support beams and create sagging floors, ceilings, and collapsing structures.
Ventura Pest Control provides ant control service near your home. We keep ants out of homes so you don't have to throw away food or spend needless hours cleaning surfaces due to an ant infestation.
Five Useful Ant Prevention Techniques
Once our service technicians eradicate ants from your Ventura County home, you don't want a repeat. Ants will always be in the yard around your home, so you must take steps to deter them from reentering your house. Implementing these five ant prevention tips, along with the ant control service from Ventura Pest Control, will maximize freedom from ants:
Prune tree branches and shrubs away from the house.
Seal cracks and gaps in the foundation, roofline, and incoming pipes and wires.
Repair leaking plumbing fixtures in the house, crawlspace, and basement.
Install exterior door sweeps and weatherstripping.
Keep indoor and outdoor garbage containers closed.
Ants enter Ventura County homes searching for food, water, and shelter due to temperature drops or drastic weather changes. By removing entry points and enticements, along with home pest control from Ventura Pest Control, you won't have to worry about future ant infestations.
Contact Us To Completely Eliminate Ants In The House
When you need ant control help, we will dispatch a trained service technician to your Ventura County home. An experienced service technician will inspect your property for signs of an infestation, entry points, attractants, and hot spots. We will also identify the ant species infesting your home to ensure we use the correct product treatments.
Our Ventura pest control services use Integrated Pest Management (IPM) methods. This treatment technique requires judicial use of products to protect the environment and maintain a safe atmosphere for children and pets. Our ant control process generally involves strategically placing baits in hot spots in the interior.
Because Argentine ants, the primary problematic ant in our area, create nests in the soil alongside sidewalks and underneath boards and stones, we also create a barrier around the structure, drastically reducing the ant population in the yard. This barrier also discourages other ant species from invading your Ventura County house.
Integrated Pest Management focuses not only on the elimination of the current ant infestation but also on preventing future issues. Our service technician will guide you with additional interior and exterior ant prevention suggestions to ensure you never have this problem again.
We know an ant infestation is stressful. Therefore, our ant treatment process comes with a 30-day guarantee. If ants reappear during this period, we will return at no additional cost to retreat your home.
Contact Ventura Pest Control today to get a free quote and put an end to the ant infestation inside your house.