Professional Pest Solutions For Hidden Hills, CA Properties
When pest problems pop up in your Hidden Hills home or business, it can become very frustrating to deal with on your own. Plus, due to our climate, Hidden Hills pest problems last all year long. Trying to solve these issues by yourself may not only make them last longer, but it can also make them very dangerous.
Ventura Pest Control has over 60 years of experience dealing with pests. As members of the NPMA and the CAI, all of our pest-prevention solutions are based on Integrated Pest Management (IPM) strategies and backed by our pest-free guarantee. With the most experienced pest professionals focused on customer satisfaction above all else, we can promise you, with confidence, that our solutions are not only effective against pests but safe for everyone on your property as well. Give us a call for an absolutely free, no-obligation estimate on any of our pest control methods.
Home Pest Control In Hidden Hills, CA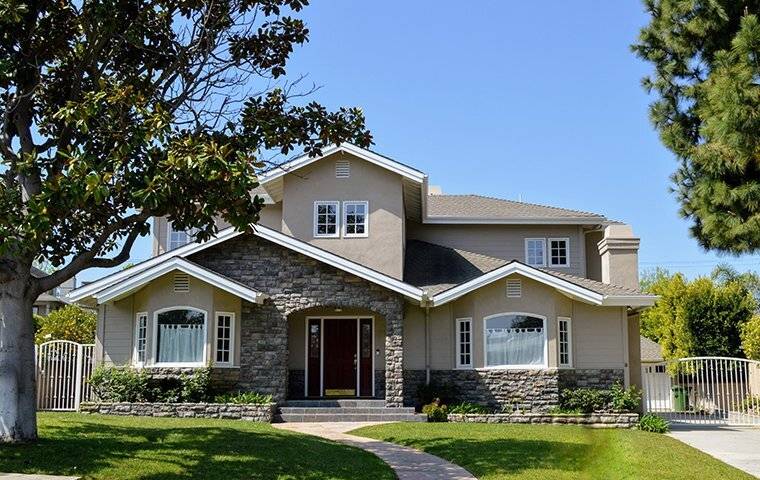 As a homeowner, your pest control priorities might fall by the wayside as life gets busier. While there are many things you can do on your own to reduce your chances of pest infestations, many of them can be too time-consuming to keep up with.
Once you understand the need for professional pest control, you should put your trust in the same methods that have made over 10,000 homes in Hidden Hills and the surrounding areas free from dangerous and destructive pests.
All of our services are backed by our pest-free guarantee, and we even offer emergency pest control services to solve any urgent pest problems.
Call us for a free estimate for home pest control services you can count on.
Commercial Pest Control In Hidden Hills, CA
It doesn't take a business degree to understand that pest problems can cut into profits in a big way. As a locally and family-owned and operated company, we understand how important your customers are to you, which is why your satisfaction will always be our top priority. When pests threaten your customers, inventory, and reputation in the community, we can protect your facility with IPM solutions, innovative pest-monitoring devices, and highly experienced service technicians. When your business and livelihood are on the line, don't put your trust in anything but the best. Call us for a free estimate to get pest-free protection for your business.
What Is The Best Bed Bug Control Method In Hidden Hills?
Bed bugs are some of the most difficult pests to control in the Hidden Hills area, and these difficulties are only exacerbated by the myriad of misconceptions surrounding these tiny pests. Many people think that keeping their homes clean will keep bed bugs away, but bed bugs really don't care about what your house looks like. They only care about feeding on human blood.
Since they'll enter your home by hitchhiking on various items such as luggage and secondhand furniture, checking items before bringing them into your home is the best way to keep them out. Once they're in, you can avoid the health effects of a long infestation by noticing the signs early. These signs include:
Rust-colored rings on furniture
Bloodstains on sheets
Musty odor on furniture
Red, itchy bumps on your skin
If you do notice these signs, don't try and get rid of bed bugs yourself. Home remedies like vacuuming and sprays will usually only get rid of the pests on the surface. There could be many more beneath the surface.
If you call Ventura Pest Control at the first sign of bed bugs, one of our service technicians will conduct a thorough inspection before recommending a treatment plan. We have heat treatments for confined infestations and fumigation methods for widespread infestations, both of which come with a 30-day guarantee. Give us a call to schedule your comprehensive bed bug inspection in Hidden Hills, CA at the first sign of bed bugs.
How To Keep Spiders Out Of Your Hidden Hills Home
When spiders threaten your Hidden Hills home, most of them will spin unsightly webs in your house, and some of them can even be dangerous. Unfortunately, spiders are actually immune to most pest control solutions, even the ones utilized by professionals. There is good news though. Spiders are only after one thing: other pests. If they find that your home provides a fertile hunting ground, they'll set up camp. However, if you can control pest populations on your property, you'll reduce spider activity dramatically.
There are plenty of things you can do to control pest populations on your own, but most of them aren't worth the time and energy when there is a better alternative. Ventura Pest Control's continuous general pest control protection can create a preventative barrier around your home to ward off pests, which will ensure a reduction in spider activity. With over 60 years of experience and 10,000 customers, we can stand behind our pest-free guarantee with confidence. Give us a call for a free estimate on spider control in Hidden Hills, CA.
All You Need To Know About Cockroaches In Hidden Hills
There's nothing worse than discovering a cockroach infestation, but it's a common occurrence for local property owners, and there are some serious threats to consider. Here's what you need to know about cockroaches in Hidden Hills:
Cockroaches can cause adverse health reactions. When cockroaches feed on sewage, feces, decaying organic matter, and garbage, they pick up bacteria and pathogens. They contaminate your counters and your food, consequentially spreading germs and disease. Cockroaches also drop fecal matter wherever they go and leave their discarded shells behind them. These contain allergens that trigger allergic reactions, which can become quite severe.

Cockroaches multiply rapidly. To give you an idea of how fast they breed, one female cockroach can produce an average of 150 young in her lifetime. Do the math, and you'll understand how fast a small infestation can spread.

Cockroaches develop a resistance to pesticides over time. The more you use household cockroach products, the more the cockroach population will develop an immunity to insecticides you're exposing them to.
For quality cockroach control and prevention services, the best thing to do is contact your local pest professionals. Reach out to the team at Ventura Pest Control today, and we'll get the ball rolling right away.
Are Termites In Hidden Hills Dangerous?
Termites are small pests that can cause large-scale damage to your home or business. In fact, the NPMA (National Pest Management Association) estimates that our country alone spends five billion dollars every year on termite damage repair and prevention costs.
Aside from the financial threat, are termites in Hidden Hills dangerous? Well, consider that termites eat and burrow through damp, rotting wood. They create these intricate pathways called gallery tunnels in which they nest and travel from site to site. This weakens the wood and damages the structural integrity of your home or business, putting you and everyone else in the building in harm's way.
We recommend professional pest protection to effectively protect your property from termite damage. Here at Ventura Pest Control, we provide complete termite control services and year-round protection for infestation. Contact us today for a free service quote.
Why You Should Call The Pros About Rodents In Your Hidden Hills Home
Your home is your safe haven, and the last thing you want to see is rodents scurry across the room. Rodents are extremely destructive pests that are not only upsetting to see but are also very harmful. Here are some of the reasons why you should call the pros about rodents in your Hidden Hills home:
Rodents leave feces and droppings around your home, spreading germs and bacteria and contaminating every inch of your property.

Rodents expose us to many diseases through contamination and bite, like hantavirus, leptospirosis, salmonellosis, rat-bite fever, LCM (Lymphocytic Choriomeningitis), and tularemia.

Rodents gnaw on structural components and items in your home. They even chew on electrical wiring, which can cause a house fire to break out, and that's just too big a risk.
Only a team of pest experts can address rodent infestation on a large scale, treating the problem and implementing preventative measures to keep them out in the future. The most effective form of rodent protection is to get in touch with Ventura Pest Control to learn more about our rodent control and prevention services.
Hidden Hill's Mini Guide To Effective Ant Control
Ants are tiny pests that can fit into the smallest openings, meaning they are sneaky about their entry methods. Once they get inside your property, they can be very hard to get rid of. Luckily, there are some ways you can prevent ants from infesting your home or business. Here's a mini guide to effective ant control in Hidden Hills:
Make sure to seal off entrances as well as repair cracks and crevices.

Spray an ant barrier insecticide around your home.

Keep food in airtight containers.

Clean up spills and crumbs immediately.

Wash dirty dishes promptly.

Regularly sweep and vacuum your space.

Take the trash out regularly and put it outside in sealed bins.
If you experience ant activity on your property, the best source of protection is from a team of qualified pest experts. Ventura Pest Control offers reliable ant control and prevention services you can depend on throughout the year. Reach out to us today, and we'll get the process started right away.
Request Your Free Quote
Complete the form below to schedule your service.