Comprehensive Pest Management For Camarillo, CA
No matter where you live, pests will always cause problems in and around your property. Camarillo is home to many different species of pests, including rodents, cockroaches, gophers, ground squirrels, termites, and spiders. To defend your Camarillo home or business from pests, the professionals here at Ventura Pest Control are proud to provide unparalleled pest management solutions. With decades of experience in the pest control industry and a commitment to the communities we serve, Ventura Pest Control is the right choice for all of your commercial and residential pest control needs. Get in touch with us today for more details about all of our excellent pest control options.
Home Pest Control In Camarillo, CA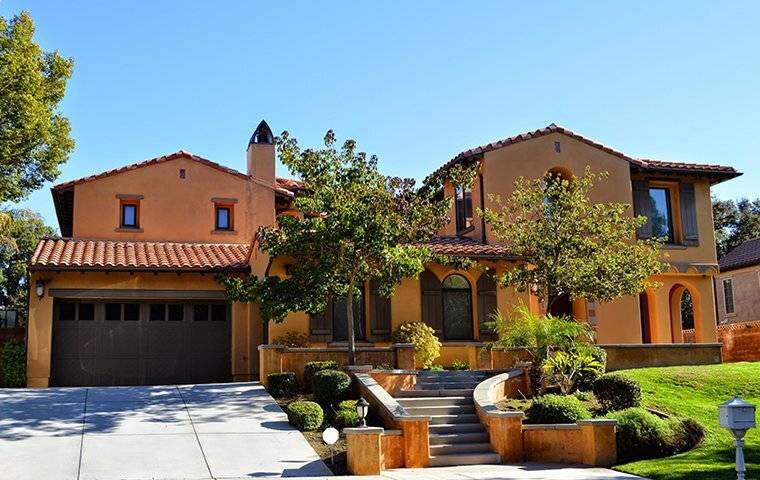 You should never have to share your Camarillo home with pests. Pest infestations lead to stress, frustration, discomfort, property damage, and the spread of dangerous diseases.
To protect your home and family from the wide variety of pests that also live here in Camarillo, don't hesitate to put into place an ongoing residential pest control plan from Ventura Pest Control.
As a local, family-owned pest control provider, protecting your home and family from harm is our number one goal. Whether you're looking for general pest maintenance or one-time services, Ventura Pest Control has you covered.
Don't wait for pests to infest your property and take away your peace of mind. Instead, turn to the professionals at Ventura Pest Control for services that will keep your residential property pest-free throughout the entire year.
Commercial Pest Control In Camarillo, CA
The protection of your Camarillo business shouldn't be left to just anyone. Keep your commercial property free of destructive and dangerous pests by working with the professionals from Ventura Pest Control to put into place a comprehensive commercial pest control plan. We are committed to keeping your Camarillo business free of rodents, insects, spiders, and other pests by utilizing the most advanced pest control strategies and prevention methods available. All of our commercial pest control plans rely on Integrated Pest Management (IPM) methodologies to ensure your commercial property is protected from all kinds of pests throughout the entire year. Don't wait for pests to take over your Camarillo commercial facility and threaten your reputation. Instead, reach out to the professionals here at Ventura Pest Control for excellent commercial pest control solutions that get the job done right.
How To Control Rodents On Your Camarillo Property
Rodents are common pests that have adapted to live in and around human dwellings. They come in many different shapes and sizes, but the characteristic that all rodents share is their sharp front teeth that never stop growing. One of the biggest problems rodent infestations cause is the damage they inflict to your Camarillo property. Rodents will chew on just about anything to wear down their continuously-growing front teeth. Unfortunately, this constant chewing behavior can lead to electrical shortages, floods, property damage, and even house fires in some situations.
The first step to controlling rodents in and around your Camarillo property is learning to identify what might attract them in the first place. Avoid attracting rodents to your home or business by sealing gaps in your foundation, removing uneaten pet food, eliminating sources of excess moisture, and reducing clutter. Although prevention tips are helpful, the most effective way to control rodents is with professional rodent control services from Ventura Pest Control. We're ready to work with you to eliminate rodents before they have the opportunity to cause problems on your Camarillo property. Give us a call today to learn more about all of our rodent control services and prevention methods.
Is There A Difference Between Gophers & Ground Squirrels In Camarillo?
One of the main problems homeowners face when it comes to proper pest control is identifying the pests causing problems around their Camarillo property. And when pests look and behave similarly to each other, it can be difficult to identify which pest is which. Gophers and ground squirrels are two common lawn pests found here in Camarillo. Unfortunately, ground squirrels and gophers are very similar pests that cause very similar problems, which can make them difficult to differentiate from each other. However, there are some differences.
Ground squirrels are active during the day and generally spend most of their time above ground. They have open burrows spanning between four and five inches in diameter. By comparison, gophers spend most of their lives underground in their extensive burrows and are rarely seen at the surface. They leave behind crescent-shaped mounds that have no apparent opening. To protect your Camarillo property from gophers and ground squirrels, reach out to the professionals here at Ventura Pest Control. We're ready to eliminate your current pest problems and prevent them from returning. Reach out to us today to get started on your journey to a future free of pests.
Hidden Dangers Of Pest Birds In Camarillo
Pest birds loiter around Camarillo businesses and while they may seem like a harmless member of nature, they are actually very damaging to your property and reputation. Here are some of the hidden dangers that pest birds can cause:
Discomfort of your employees and customers

Illnesses like salmonellosis and histoplasmosis

Corrosion of your property

Noise pollution

Fires due to nesting around electrical wiring
Keeping birds off of your Camarillo property may not seem feasible, but with professional bird control from Ventura Pest Control, this goal is within reach. By following strict Integrated Pest Management methods, we're able to not only get rid of current bird problems but we're also able to prevent new ones from developing. We'll customize a treatment plan to your specific needs, some of which involve Bird B Gone, the most humane and reliable form of exclusion. And all of our bird control services are backed by a two-year warranty to further restore your peace of mind. To learn more about ways you can protect your property from pest birds, contact us today.
Three Signs You May Have A Termite Problem On Your Camarillo Property
Termite damage can be subtle but sometimes it can be very clear. These issues typically go undetected for an average of 18 months because of where they occur, which is in the heart of your Camarillo home's foundation or within your walls. Here are three signs that you might have a termite problem:
Damage to your walls that might include hollow-sounding walls and bubbling wallpaper and paint.

The presence of mud tubes, which serve as protection for termites, and mazes, which give the impression of shredded wood.

Swollen floors and ceilings, as well as windows and doors that won't shut properly.
Each year, termites damage 600,000 American homes costing homeowners a collective five billion dollars. At Ventura Pest Control, we look to provide homeowners with long-lasting and reliable termite control that mitigates these issues as well as prevents them. We provide Camarillo homeowners with everything from detailed inspections and monitoring to treatments with the Termidor® HE liquid bait solution. For more information on termite control that protects your home, contact us today.
A Practical Guide To Ant Prevention For Camarillo Homeowners
Keeping ants out of your Camarillo home may seem like a tall task, but with a few simple changes, you can keep them out of your home all year long. Try the following tips:
Check your home for roof and downspout leaks routinely. Also address any issues with moisture inside your home as well.

Remove all yard debris from your lawn, including leaf piles, hedge trimmings, and tree branches.

Seal up the crevices in your foundation with caulk, apply weather stripping to gaps around your doors and windows, and install door sweeps where needed.

Always store food in secure containers and avoid leaving any food out that's uncovered.

Dispose of your trash on a routine basis and check for food residue between uses.

Clean up after crumbs and spills thoroughly, and don't forget about soap, as ants can mistake this for food as well.
At Ventura Pest Control, we provide reliable ant control that keeps Camarillo homes protected throughout the year. We follow Integrated Pest Management methods, which focus on understanding the environmental factors that surround your home and creating sustainable change with that information. To learn more about ant control that will keep your home free from pests throughout the year, contact us today.
Just How Dangerous Are Camarillo's Spiders?
With their spindly legs and creepy crawly motions, spiders are a source of fear for many Camarillo residents. And while many of the species that you're likely to come into contact with will not pose a significant health risk, there are two spiders that you should be familiar with. The brown recluse is easily spotted with its six eyes, as it's the only species with this feature. Brown recluses come in a light brown to cream coloring and are usually stamped with a violin shape; however, the size and appearance of this image is subject to a lot of variation. Homeowners can expect to find brown recluses primarily outside underneath porches or amidst yard debris. When they gain access to your home, they look for dark and secluded areas. The brown recluse spins their web but will actively hunt rather than wait in their web.
The other species of spider that can be very dangerous to your health is the black widow. This glossy black spider is most easily identified with the iconic red hourglass shape. They are relatively antisocial spiders, which means that they tend to live in the depths of your closets, basements, and attics. Unlike the brown recluse, the black widow will wait in her web until prey passes by, only to strike with her venom. While bites from these spiders are still unlikely, both are considered venomous, so bites can have very serious consequences.
For more information on spider control that protects your home from all varieties of spiders, contact Ventura Pest Control today.
Request Your Free Quote
Complete the form below to schedule your service.