There's nothing that demonstrates freedom quite like the sight of a bird on the wing, soaring through the sky. However, when that bird and its friends decide to make your house their new home, that becomes problematic in many different ways. This guide will teach you which birds are considered pests, how they become bad news for your property, how to deter birds from choosing your home or business as their new nesting grounds, and how you can get total bird control with the help of Ventura Pest Control. We've been providing Ventura County pest control and eliminating pests since 1959, which gives us the knowledge and experience needed to take care of your bird problem for good.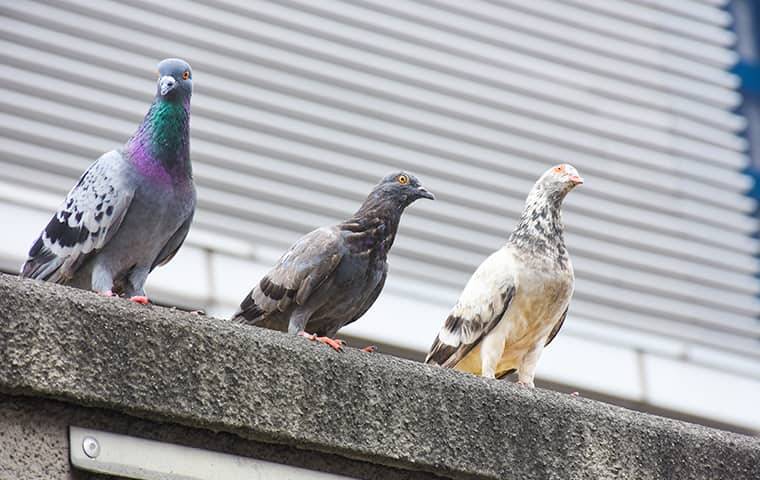 What Type Of Birds Are Considered Pest Birds?
The most common pest birds in Ventura County are English sparrows, mud swallows, pigeons, seagulls, and woodpeckers.
English sparrows, also known as house sparrows, are chunky little birds. The males are brightly colored with white, black, and gray, while the females are brown with grayish bellies. They're 6 to 7 ½ inches long. They nest in holes wherever they can find them. They're often found behind store signs or hanging around in parking lots to grab whatever food they can find.
Mud swallows are blue on top, with rust-colored chests and cream bellies. They're roughly five inches long. They are also known as barn swallows, as that's where many of them make their cup-shaped mud nests. They're migratory birds, so it's important that you follow federal law while interacting with them.
Pigeons are gray with dark gray bands on their wings and lighter gray chests and bellies. They grow to 12 ½ to 13 ¾ inches long. You'll find them anywhere there's food: at the park, at the zoo, and in your yard. They depend on humans for food and nesting sites.
Seagulls are variously colored white with black wingtips, gray with a black head, solid white, and solid gray. Depending on the species, they can grow from 11 inches up to 30 inches long. They can live long lives; herring seagulls have been reported to live for 49 years.
Woodpeckers are variously black and white, often with a pop of red somewhere, frequently on their head or chest, but other places are possible, too. Depending on the species, they grow anywhere from 3 to 30 inches long. Woodpeckers are protected by federal law; it's illegal for you to do anything to them.
If you have any of these pests on your property, you need to learn how to control birds in your yard. Ventura Pest Control can help. We've been removing pests since 1959, giving us the experience and knowledge needed to take care of any bird infestation you might have.
All The Ways Pest Birds Can Be Problematic For Property Owners
Different birds bring different problems with them. English sparrows can decimate agricultural crops like wheat and corn. They also displace native birds like blue jays, chickadees, flycatchers, martins, robins, song sparrows, tanagers, and thrushes.
Mud swallows cause property damage by building their nests on manmade structures. Their droppings can also corrode those structures. Unfortunately, you can only destroy the nests when they're inactive. If eggs or chicks are present, it's illegal.
Pigeons' droppings corrode metal and concrete. They're also incredibly slippery, leading to falling accidents when people walk through them. The droppings are also a disease vector for histoplasmosis, cryptococcosis, and psittacosis.
Seagulls have lost their fear of humans and now rely on us as a food source. They'll dig through garbage cans looking for food. They'll also eat smaller animals that they're able to carry off. They carry the same diseases as pigeons, and they can also spread E. coli. They may hit you in the head with their wings if they're taking food from your hand, and they'll attack violently if they feel like their nest is threatened.
Woodpeckers are well-known for drilling into wood with their strong beaks. However, they aren't picky about the source of that wood. They may bore into your siding or other wooden structures looking for food. They also beat on metal surfaces in a practice called drumming, which is both a means of communication and part of their mating rituals. They can dent or even peck holes in the metal, too.
Because of all these dangers, it's imperative that you enlist the help of a bird control service like Ventura Pest Control to get these birds safely and legally off your property.
Simple Tips To Deter Birds Around Your Property
Bird control can get tricky, especially when you have to take federal law into account. That's why it's often better to prevent a bird infestation rather than wait and fight one. Here are three simple tips:
Remove water sources. Get rid of birdbaths, fix any leaky spigots or sprinkler systems, and cover or drain water features.
Eliminate food sources. Don't grow plants that have berries, or cover them with a fine metal mesh. If there's a new flock of pest birds at your bird feeder, contact your local extension office and find out what kind of food they don't like.
Get rid of shelter opportunities. Trim your trees to remove the cover birds need.
If your prevention methods fail, you may need to call bird pest control experts near you.
Total Bird Control For Ventura County Properties
You may be wondering, "Can pest control get rid of birds?" The short answer is yes. Contact Ventura Pest Control today for bird control solutions for your Ventura County property. Our highly trained technicians will come to your property and assess your situation for the best way to help get the flock out of your yard.