There are many different kinds of spiders in Ventura County. One of the most common is the daddy long leg spider, known for having, you guessed it — really long legs. While daddy long legs are typically harmless, people still harbor a healthy fear of spiders of all kinds and would prefer that no type of spider try to make their Ventura County home their home as well.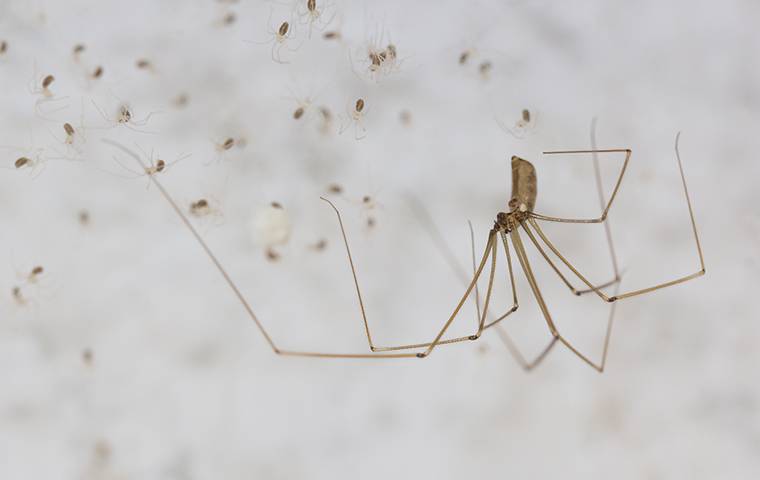 Why Daddy Long Legs In Ventura County Homes?
Different environments will attract different kinds of spiders. Below are some things that attract daddy long legs, and they might be the reasons why daddy long leg spiders are invading your home:
Light sources: Daddy long legs are attracted to light sources. This includes fluorescent lights, lamp lights, and so on. That is why you are likely to see daddy long legs in your office and around your ceiling lights.
Water sources: Just like light sources, daddy long legs are attracted to any type of water source, as well as moist areas in general. This could be under your bathroom or kitchen sinks if pipes are leaky, as well as anywhere else moisture can accrue.
Outdoors: Daddy long legs are also common in yards in Ventura County. They prefer to hang out in stone piles, woodpiles, compost heaps, and trash cans.
Are Daddy Long Legs Dangerous In Ventura County?
Daddy long leg spiders possess powerful venom that allows them to kill other spiders and insects, including cockroaches. However, to date, there is no record of their bites hurting humans. It appears that while this venom is capable of killing virtually any kind of insect, it is thankfully harmless to humans. In fact, most daddy long legs aren't particularly interested in humans at all, and are only in your house because it is a convenient source of shelter and food.
Should I Be Concerned About Spiders In My Ventura County Home?
While daddy long legs may not pose a threat to you and your family, there are other types of spiders in Ventura County that might. Below is a guide to spiders in Ventura County:
Black widows: Known for the red hourglass marking on their abdomens, the female black widow is one of the most dangerous types of spiders in Ventura County. They are known to invade homes, and a professional should be called when they are spotted.
Yellow sac spiders: Perhaps the most common house spider in Ventura County, the yellow sac spider does not spin webs and can be found on walls and ceilings, baseboards, and in woodpiles outside.
Brown recluse: This is another very dangerous type of spider found in Ventura County and is most dangerous to children. These spiders are brown with a violin-shaped marking on their abdomen. Again, a professional should be called immediately upon seeing one in your home.
Jumping spider: Another common house spider in Ventura County, jumping spiders are fortunately harmless and are characterized by their acrobatic movements. They only bite when threatened, and people have reported the bites are not serious.
How To Completely Get Rid Of Spiders In Ventura County Homes?
While you can try to remove spider infestations on your own, it is recommended that you contact a pest professional in Ventura and have them handle it for you. Here at Ventura Pest Control, we have 62 years of experience handling spiders (especially venomous kinds) and safely and effectively removing them from your home once and for all.
Our expert technicians are armed with the knowledge and tools to deal with whatever type of spider infestation you have. We know how difficult and overwhelming owning a house can be. With customer satisfaction being at the center of our business, here at Ventura Pest Control, we guarantee a pest-free home. Call us today to learn more about our Ventura home pest control and commercial exterminator programs!