Pest control in Ventura County is our specialty, so don't hesitate to reach out to us for an assessment should any of the signs in this guide resonate with you as a homeowner.
Rat infestations get worse with time, so it's important to be knowledgeable and act quickly in the event of an infestation. We've put together a handy guide full of fast facts and actionable tips that will help you stay informed and ready to handle any rat infestation.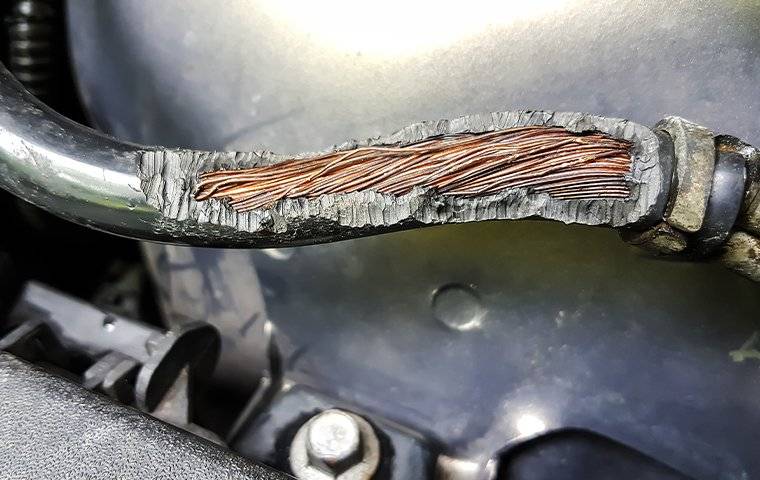 How To Identify A Rat
Rats are somewhat easy to identify, even for the average homeowner. While they appear somewhat similar to many other rodents, rats have many distinguishing features that can help you spot them in a hurry.

Rats are excellent climbers and even jumpers. If you notice medium to large rodents in your home in places that seem particularly difficult to get to, you may be dealing with rats.

Their presence is easier to feel than mice – they weigh more than mice, who try to be as quiet as possible, so they sound considerably more "clunky" when traveling.

Rats are larger than mice in most cases, so if you've ever seen a mouse before and can clearly tell that a rodent in your home is larger than the mouse, you may be dealing with rats.

Last but not least, their tails are very distinctive, even from other rodents. A rat's tail is cylindrical and tapers off as it gets closer to the end. Think of a cat's tail, only hairless, and somewhat pinkish brown in appearance.
If you observe any of the above, you should think about rat control methods immediately. It's best to act as soon as you notice any signs of a rodent problem and not put it off. All that time spent debating on whether or not a rat sighting was worth calling the professionals is time the rats could have spent bolstering their numbers.
Rats Cause Property Damage And Spread Diseases
The sounds that rats inside walls make are the least of your worries. If they've found a home inside the walls of your home, then you've got to keep potential damage in mind. Rats are notorious for causing damage to infrastructure such as wires, pipes, hoses, and everything in between.
They can also carry diseases, such as:
Plague

Rat-bite Fever

West Nile Virus

Typhus
If you think you've got a rat problem in your home, don't wait to get professional help. Rats aren't just annoying pests – they pose a clear and present danger to you, your family, and your home.

If you are bitten by a rat or think you've had exposure to one, contact a medical professional immediately. Many of the diseases that rats can carry are quite serious.
How To Remove Factors That Attract Rats To Your Home
Rats are attracted to two things above all else: opportunities for food and shelter. If either is readily available, rats will certainly not think twice about making a bid for them.

The easiest and most practical way to remove any contributing factors to a rat infestation is to practice good cleanliness principles. The most common vector for attracting rats into our homes tends to be unsecured garbage bins or open stores of food. If you remove those, you're removing many of the reasons rats would be interested in your home in the first place.
The Safe And Effective Way To Remove Rats From Your Home
Natural ways to get rid of rats don't really work in the long term. Rats are too good at reproducing, hiding, and escaping dangerous situations for the average homeowner to stand any chance of getting rid of them.

There's a silver lining, however – if you're wondering how to get rid of rats in the house or anywhere else on your property, Ventura Pest Control is only a call away. We use only the latest and most effective techniques to completely eradicate a rat infestation once one has taken hold.

Only a professional assessment and visit can ensure that your rat infestation has been taken care of definitively. Due to the nature of rats, you can be sure that where there's one, there are many. If you see a rat on your property, call us today to get started on reclaiming your home before things get out of hand. Rat control in Ventura County is our bread and butter, and we're happy to handle things for you every step of the way.