Not everyone is an expert on pests. However, there are many details about individual insects and creatures that are widely spread. Case in point, lots of people know that bees produce honey. Further, it's understood that they surround plants and flowers, and contribute to the ecosystem with their pollination and feeding habits. Last, but not least, it's known that their stings are painful. While these facts are essential, that's not the complete picture. Many subspecies have additional risks.
Carpenter bees are especially detrimental because they wreck wood. Your Ventura County, CA home or business could be destroyed. It's necessary to familiarize yourself with the signs of these pests, so you'll be able to take immediate action with Ventura Pest Control.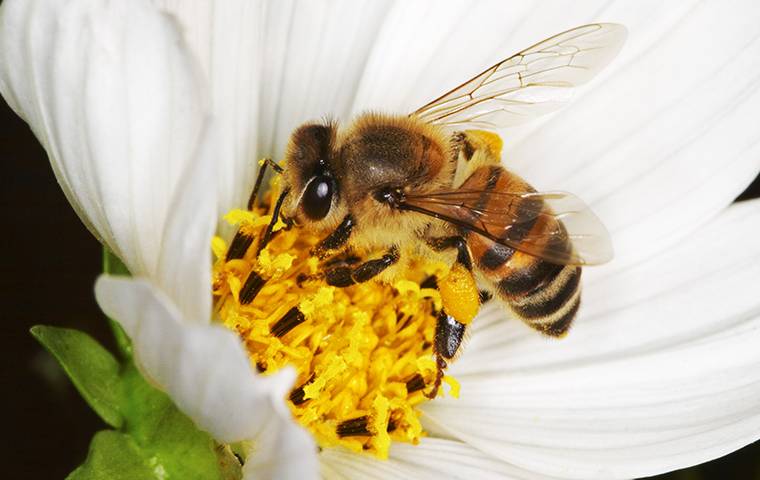 How Do Carpenter Bees Function? What Are the Risks?
Carpenter bees range quite a bit in size. The smaller specimens are around 0.31 of an inch long and have dark, metallic skin. Yellow markings decorate their frames. Larger bugs are 0.46 to 0.98 of an inch long. Their coloring varies; some are greenish-black or black. Others are purple-blue or blue. Males are distinguished by their yellow facial blots and inability to sting. Carpenter bees as a whole resemble bumblebees, but they have fewer hairs.
Unfinished or weathered wood is what carpenter bees gravitate to. This is particularly true for grades that are redwood, pine, fir, oak, and cyprus. Once these flying insects are done fixating on nectar and greenery, they'll get to work on porches and decks, siding, roof eaves, window sills, and doors. Yard furniture, railings, and fences will also be targeted. Their destruction will become evident the longer they are allowed to exist. Key infestation signs are:
A multitude of pin-point openings in foundations and wood
Seeing fecal particles and stains near the holes they drill
Discovering mounds of sawdust and pollen beneath gaps of entry
Seeing carpenter bees flutter about
Abrupt woodpecker invasions; they are attracted by carpenter bee larvae
What Are Ways to Prevent Carpenter Bees?
Individuals who are very allergic to the toxins of stinging insects will be most impacted by the strikes of carpenter bees. Outside of this, these bugs are a bigger threat to buildings and wood. The costs to recuperate from their attacks can be extremely steep. Since they are constantly forming nests, you must be focused on maintaining preventative protocols. Standard measures are concentrated on the management of your property's exterior. Do the following:
Have all pieces of unfinished wood painted right away. Add a fresh coat to sills and decks that are weathered.
Make sure you varnish wood that will be exposed to the sun, rain, or other inclement conditions.
Seal cracks and crevices along rooflines, windows, doors, and foundations.
Patch up voids that prior swarms of carpenter bees have left. You can try using caulk.
Reduce the amount of available standing water.
Repair leaks and moisture breakdowns immediately.
Have installations of metal flashing done.
Mow the grass and trim greenery regularly. Place plants and flowers at least two feet away from the property.
How Will Ventura Pest Control Handle Carpenter Bees?
Attempting to approach a bee or remove a nest on your own is serious business. There's always a chance you could be stung, even if a cocoon seems empty. It's not worth a potential trip to the hospital, so leave the eradication to the professionals at Ventura Pest Control. We have over 60 years of experience.
Bees are no match for us and our potent treatments. Our safe bee control solutions include chemical applications for nests, honeycomb retrieval, and structural repairs. Some of our foundation sealing options are foam, stapled string, and silicone. Guarantees and warranties are attached, and same-day service is available. Get a free quote when you call today!