If you have ground squirrels on your Ventura property, you've got a problem. They can ruin your lawn, garden, flowerbeds, deck or porch, and house. They also carry diseases, so they pose a risk to your health as well. You should call a Ventura pest control company as soon as possible to eliminate your squirrel problem.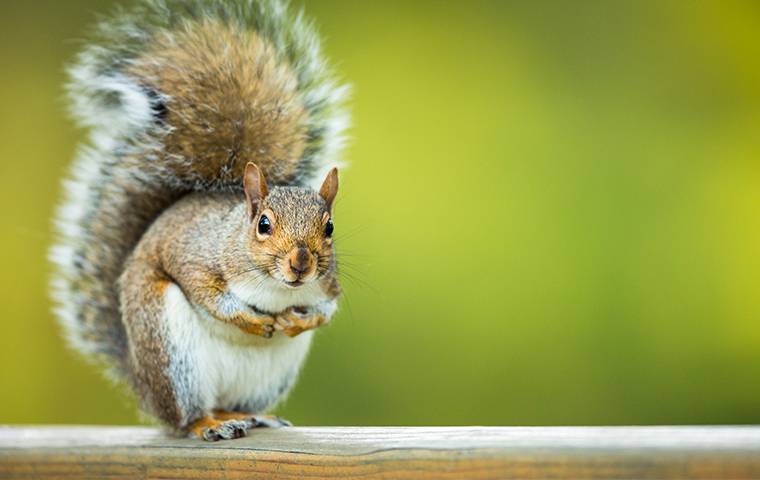 Habits And Behaviors Of Ground Squirrels
Since ground squirrels are diurnal, they're most active during the day. You can see them in lightly wooded areas, in your backyard, pastures, fields, and hillsides. If you observe them for a while, you may hear them making noises or see them twitching their tails. Those are two of the ways they communicate with each other. The third way is through using scent.
Ground squirrels don't spend much time in trees – they prefer tunneling underground in burrows that can run 30 feet in length, with multiple openings that they can duck into for safety if they feel threatened.
If these burrows go under your deck footings or foundation, you may find trouble with your deck or foundation sinking into the hole.
The Problems Ground Squirrels Can Create Around Your Property
Controlling ground squirrels become an issue when the squirrels are wreaking havoc in your yard, flower beds, or gardens. It's also necessary because ground squirrels are carriers of diseases, including:
Tularemia: Can cause headaches, muscle aches, fever, chills, sore throat, swollen glands, joint pain, and progressive weakness.
Plague: Can cause fever, chills, headaches, weakness, and swollen lymph nodes.
Leptospirosis: Causes muscle aches, high fever, chills, vomiting, jaundice, red eyes, rash, diarrhea, and damage to the kidneys or liver.
These diseases are another reason why controlling ground squirrels in Ventura is so important.
Five Simple Yet Effective Ground Squirrel Prevention Tips
There are a few ways to achieve ground squirrel control simply but effectively. These tips will help you control squirrels before they become a problem for you.
Put screens on your vents, windows, and chimney to keep squirrels out of your house.
Eliminate access points such as cracks, crevices, and holes in your foundation or near windows and doors. Squirrels can sneak through smaller holes than you'd think they can.
Cut your tree limbs to eight feet from your house, removing easy access to your roof.
Seal your garbage cans with tight-fitting lids, so the scent doesn't attract squirrels.
Pick up and throw away any fruit or nuts that fall on your lawn. They're like a beacon to squirrels who want to hoard food for the cold winter months.
These prevention tips are a great place to start, but the best and most effective way to get rid of squirrels at your Ventura home is with help from the service technicians at Ventura Pest Control.
The Safe And Effective Way To Get Rid Of A Squirrel Infestation
For the best wildlife control in Ventura, you must take several steps.
Here are the five best ways to get rid of squirrels:
Change the habitat. If you have piles of brush or debris, ground squirrels may use them to hide if they feel threatened. When you remove the brush and debris, you may find entrances to the burrows, which is helpful in getting rid of the squirrels.
Trap the squirrels. According to the University of California Agriculture and Natural Resources, Integrated Pest Management Program, live traps are usually unsuitable due to state laws about the disposition of squirrels caught in a live trap. Instead, use kill traps and place them near or in an opening of the burrow.
Fumigate the burrow. There are several pesticides approved for use in California. Some have a minimum distance from a dwelling requirement, so be sure to read the label completely. Once you've started the fumigant in one opening, you can use escaping gas to identify and fill other spaces. It is best to perform fumigation in the spring.
Bait your yard. Toxic baits for residential use are limited but effective. The squirrels have to eat the bait repeatedly for it to take effect. If a child or family pet accidentally eats the bait, there is an antidote. It generally takes two to four weeks for this option to work.
Call a professional for squirrel pest control near you. This is the best option for dealing with ground squirrels, especially since they carry diseases. Ventura Pest Control service technicians have the training to handle ground squirrel infestations.
Ventura Pest Control is the largest, oldest, local & family-owned, full-service pest company in all of Ventura County! The reason for our 62 years of success? We consistently wow our customers with our extraordinary, friendly, professional, and competitively-priced services! Call us today for a free estimate and to learn more about our residential and commercial pest control services in Ventura County.