Cockroaches are just a fact of life in Ventura County, California. Estimates say that up to 63% of homes in the U.S. may be infested with cockroaches, and these pests can be found on every continent except Antarctica. In this guide, you'll learn what kinds of cockroaches you may find in your home, how cockroaches present a health risk, five tips to avoid ever getting cockroaches in the first place, and the most effective way to get rid of them if they do make your house their home. Here's a sneak peek: You need a professional Ventura County pest control company like Ventura Pest Control to eliminate a cockroach infestation.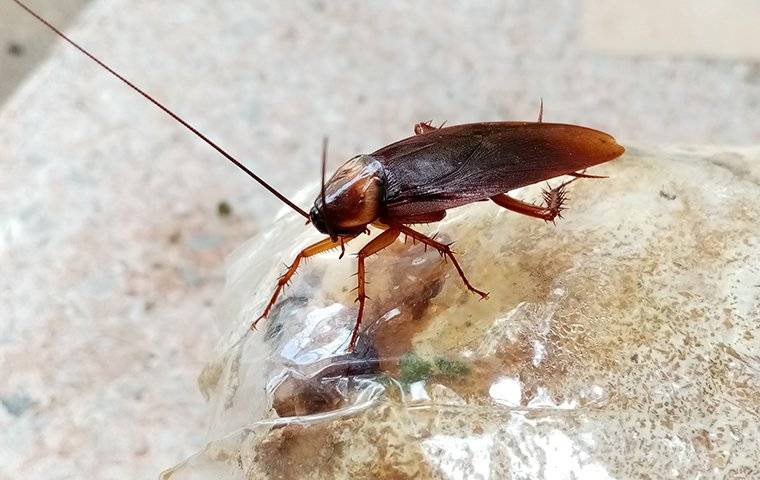 Types Of Cockroaches Found In Ventura County
There are four types of cockroaches commonly seen in Ventura County: oriental cockroaches, American cockroaches, German cockroaches, and Turkestan cockroaches.
Oriental cockroaches are shiny, black, and about one inch long. They're also known as water bugs for their proclivity for hanging around damp areas, or black beetle cockroaches, for their resemblance to those insects.
American cockroaches are mahogany brown, have leathery wings that let them glide from higher elevations to lower ones, and are between 1 ¼ and 2 ⅛ inches long. They have a yellowish figure-eight on their backs, just behind their heads.
German cockroaches are brown with two parallel black lines down their backs. They only grow to half an inch long. They're the most common cockroach in the U.S.
Turkestan cockroaches are light to dark brown, often with lighter coloring on the front half of their bodies and darker on the rear. They grow to about 1 ¼ inches long. You're more likely to see these cockroaches outside: They prefer outdoor, damp environments.
Whichever type you have, the cockroaches in your home don't belong there. You need a pest management company like Ventura Pest Control to eliminate and exclude them from your home.
How Cockroaches Are Hazardous To Your Health
Cockroaches are known carriers of more than 45 pathogens that can infect humans, leading to diseases including:
Gastroenteritis
Dysentery
Listeriosis
Giardiasis
E. coli infections
Salmonellosis
Typhoid fever
Cholera
German cockroaches can also cause severe allergic and asthmatic reactions, especially in children and older adults. Other cockroach species can cause allergies and asthma as well, but German cockroaches are far more likely to be the culprit. Also, anyone can become allergic to cockroaches at any point during their life.
Because of the many health risks, it's critical that you know how to get rid of cockroaches in the house — by contacting Ventura Pest Control and setting up an ongoing service to keep your home cockroach-free.
Five Tips To Keep Cockroaches Away From Your Home
You also need to know how to prevent cockroaches in Ventura County. Here are five tips to help you do that:
Keep a clean kitchen. Wipe up spills and crumbs as they happen. Wash dishes promptly. Sweep or vacuum and mop daily. Take out your kitchen trash every night. Taking these measures denies cockroaches a ready food source.
Keep all your food in airtight containers or in your refrigerator or freezer. Don't leave pet food out all day; feed your pet, then depending on the type of food, either toss it in the fridge for the next feeding or pour it back into its airtight container. Or consider only putting out what can be eaten in one feeding.
Fix moisture issues. Repair leaky faucets, spigots, and sprinkler systems. Install downspout extenders and splash stones to keep water away from your home. Get rid of your bird bath and bring your pet's water inside every night.
Seal your house. Inspect your foundation and seal every crack and crevice you find with silicone caulk or crack filler. Also, caulk gaps around window and door frames. Make sure your window and door screens are installed tightly. Put weatherstripping around your windows and doors, and install door sweeps on all exterior doors.
Clean up your yard. Eliminate piles of debris where moisture could gather and attract cockroaches. Trim your trees, shrubs, and bushes back away from your house. Keep your grass cut short. Fill in any divots in your yard where water collects.
If all your prevention methods fail, you'll need to know how to keep cockroaches away. Ventura Pest Control has your back.
The Most Effective Cockroach Control In Ventura County
To learn how to get rid of cockroaches, contact the professional cockroach control team at Ventura Pest Control today. We've been helping homeowners in Ventura County since 1959, and we're the largest, oldest pest control company in the region. That gives us the knowledge and experience you need to get rid of your cockroach problem. We're an Integrated Pest Management (IPM) leader, and we stay up-to-date on the latest cutting-edge home pest control practices. Let us help you with your cockroach infestation. Contact Ventura Pest Control today.