The discovery of ants infiltrating your home is like stumbling upon a secret society thriving within your walls. At first, it's a perplexing notion – tiny, industrious creatures marching in unison, each possessing an unwavering sense of purpose. Their intricate tunnels and bustling highways crisscrossing your domain reveal a hidden world of order and chaos, a microcosm of life's relentless pursuit to thrive. As you watch these miniature architects go about their daily routines, you can't help but feel a growing sense of violation at the sight of them brazenly making your home their territory right under your nose.
Fortunately, our resourceful team at Ventura Pest Control understands the frustration of finding these intrusive insects in your home. That's why we offer the most advanced and reliable ant control in Ventura County. Read on to learn more about ants and why it's essential to partner with pest professionals to wipe them out completely.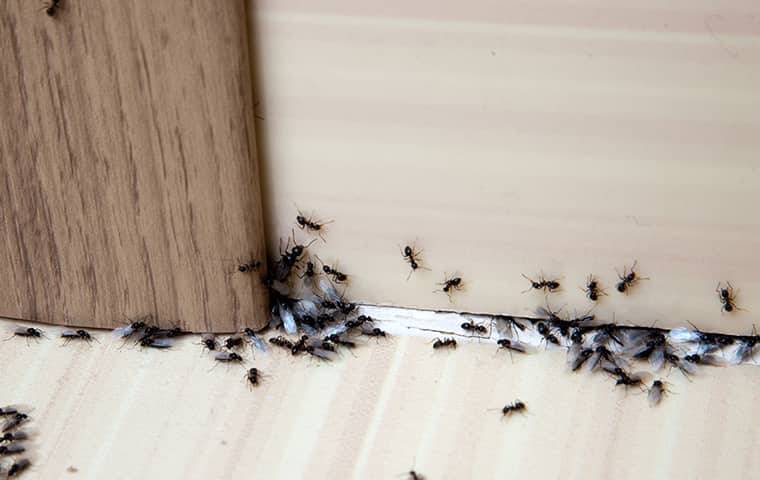 How Can I Tell What Type Of Ants Are In My House?
Identifying the type of ants that have invaded your home begins with observing their physical characteristics and behaviors. First, notice their size and color. Are they tiny and reddish-brown, or larger with a darker hue? The size and color can offer initial clues. Next, closely examine their body structure, specifically their waist and antennae. Some ants have a single-segmented waist, while others have two. The number of segments and the shape of the antennae can also help differentiate between species.
In addition, take note of their other habits. Do they prefer damp areas, like bathrooms? Are they fond of your sweet, sugary treats in the kitchen? This can provide insight into their species and dietary preferences. If you're feeling inquisitive, consult field guides or online resources to compare your observations with known ant species in your region, which can help you accurately identify these unwelcome intruders.
For the most accurate identification, get in touch with professional ant control specialists in your area.
How Bad Is It To Have Ants In My House?
An ant infestation in a home can escalate from a minor nuisance to a serious problem if left unaddressed. Initially, a few ants scurrying around your kitchen scavenging for food may seem harmless, but their colony's exponential growth potential can turn a small issue into a major headache. These insects can leave germs and bacteria on your surfaces, food, and other items as they travel throughout your home, leading to increased health risks and illness.
Additionally, certain species can cause a fair amount of structural damage to your property by tunneling through your wooden structures. Ants can also infiltrate electrical systems, potentially leading to electrical issues or even fires. Large colonies can disrupt your daily life and become unsightly and overwhelming. So, to prevent a minor annoyance from becoming a major ordeal, it's critical to make ant control for your house a priority, especially once you've noticed an issue.
Why Are Ants Taking Over My Home?
When ants invade your home, it seems like their takeover is quick and merciless. Every ant has their role and carries it out with conviction and determination. The goal is to find comfortable living conditions for their colony where they can obtain basic essentials easily and consistently. This makes your home the perfect environment for these insects to not only survive but thrive.
However, you don't have to sit idly by, watching them parade into your home as if they own it. Your first step is to identify the factors attracting these tiny intruders so you can reduce or eliminate them. To help you in this endeavor, we've provided several reasons below why ants have targeted your home:
Food sources: Crumbs, spills, or open food containers left behind.
Excess moisture: Standing water or leaky pipes and faucets.
Access points: Small cracks, gaps, or unsealed windows and doors.
For effective ant control, it's important that you address the elements that ants find appealing. Once you accomplish this, you'll see a drastic reduction in their activity. Consult with your local pest management specialists for the best ant prevention tips.
How Do I Get Rid Of Ants For Good?
If ants attempt to stage a coup on your property, it's a good time to bypass those tempting home remedies and popular do-it-yourself (DIY) tactics and opt for professional ant pest control services instead.
For more than six decades in the industry, Ventura Pest Control has been providing high-quality and effective services to keep the homes and businesses of our residents peacefully pest-free. Our service technicians have the experience, background, and skills to quickly assess the extent of your pest problem and devise an action plan to eliminate the threat quickly.
Reach out to us today to request your free estimate.