Keeping pests out of your home is an inevitable responsibility. The best way to accomplish this is to identify the threats and formulate a plan. Ants, in particular, can be difficult to manage due to their small size, large populations, and variety of species. Fortunately, we have simple suggestions to help you defend your home from these infestations.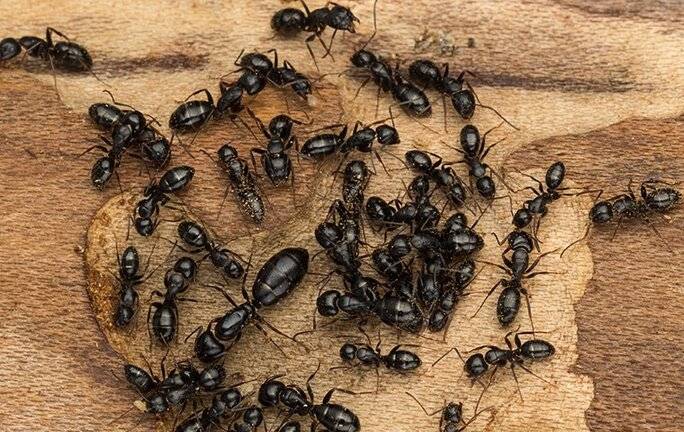 The Problem With Ants
Ants are one of the most common household invaders. There are six types of ants typically found in and around Ventura County homes. Some of these species are more dangerous than others.
Argentine ants represent the most prevalent species in the area. They are some of the smallest ants and live in large colonies. Their shiny exoskeleton varies between dark brown and black.

Pharaoh ants comprise another species of small ants. They are light yellow to reddish-brown and difficult to control once inside because they repopulate quickly and often.

Odorous house ants are very easy going in terms of habitat. They are resilient pests and can survive in any climate. They are brown or black and give off a pungent odor when killed.

Acrobat ants prey on insects like wasps and grasshoppers. They are light brown to black and the shape of their abdomen resembles a heart when looked at from above. When these ants are threatened, they may bite. They will also strip insulation from electrical wires which can cause short circuits.

Fire ants are stinging ants with a fierce proboscis. They use the proboscis to latch on and deliver several stings at a time to their victims. This can be extremely risky for people with allergies to them, and very painful for anybody unlucky enough to tread on their nests. These ants are a dark reddish-brown and usually found outside.

Carpenter ants pose the most significant threat to the structural integrity of your home. These large black ants burrow their way into damp wood and tunnel through leaving behind a hollow shell where a sturdy structure once stood.
All of these ant species have a few things in common: how and why they enter your home. Argentine, Pharaoh, odorous, and acrobat ants are not dangerous to you or your home; they're simply a nuisance. Fire and carpenter ants, however, should be regarded as threats and dealt with immediately.
Why Ants Want To Come In And How To Keep Them Out
When ants enter your home, they are after two things: food and shelter. Their compact size makes it incredibly easy for them to gain access through holes and cracks in your foundation or open windows and doors. There are a few steps you can take to prevent them from entering your home.
Eliminating food sources is one of the easiest ways to prevent a problem with ants. Make sure to keep your floors and counters crumb-free and clean up spilled drinks, rinse your dishes if they are left in the sink, and keep all food stored in airtight containers.

Sealing entry points will prevent ants from entering your home. Routinely inspect your foundation for any signs of cracks or holes and seal them immediately to protect your home from ants and other pests. Sealing areas around pipes and utility wires is also recommended.

Repair all moisture issues as soon as they are noticed. Ants are attracted to damp wood and fungus. Therefore, you should monitor your plumbing and roof for any leaks regularly to prevent water damage.
Once ants have made their way inside, it can be very challenging to get rid of them because of their numbers and breeding habits. Some ant species will go through a process known as "budding", and a single colony will separate into several colonies, spread into new areas, grow, and bud all over again. The best form of ant control is professional assistance.
How Ventura Pest Control Can Help
At Ventura Pest Control, we have the knowledge and skill needed to handle all of your pest control needs. Our professional technicians provide dependable solutions in a quick and cost-effective manner with top-notch customer service. Even the tidiest homes aren't immune to pest problems, and when they happen, we are here to help.
Contact the professionals at Ventura Pest Contol for all of your Ventura County, CA home pest problems.