While many think termites are a springtime problem, they can be a year-round concern. If termites in Ventura are uncontrolled, they can cause significant damage to homes and other structures, and it can happen at any time of year.
It's essential to have a year-round termite prevention plan. Here at Ventura Pest Control, we can help you. We specialize in termite control and can provide the services you need to keep your home safe from these destructive pests. With over 60 years of experience, our equipped team of experts will handle any termite problem you may have.
If you're concerned about termites in Ventura, don't wait until spring to take action. Don't hesitate to contact us today to help you get started on a year-round termite prevention plan.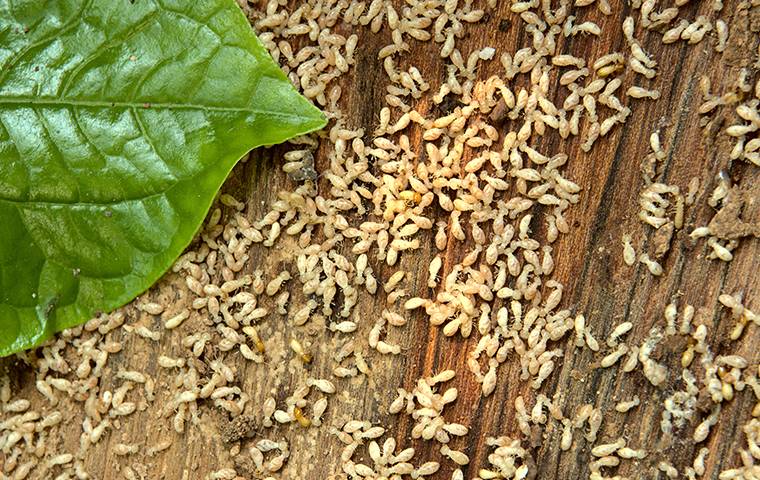 Common Problems Termites Cause In Ventura
These small insects might not seem like much, but termites can cause significant damage to your home if left unchecked. Here are just a few issues a termite infestation can cause:
Structural damage: One of the most common types of damage that termites cause is damage to houses and other buildings. Termites are attracted to wood, so they will often burrow into the support beams of a building to build their nests; this can weaken the structure of the building and make it more likely to collapse.

Damage to furniture: Termites don't just eat wood; they also eat paper and fabrics. They can damage your furniture. Termites will often eat away at the legs of chairs and tables, weakening them and making them more likely to collapse. They can also destroy couches and mattresses by eating through the fabric. If you suspect that your furniture might be infested with termites, inspect it for signs of damage. Check for holes or chewing marks on the legs of chairs and tables, and look for tears in upholstered furniture. Call a termite removal professional immediately if you see any of these signs.

Water damage: Another problem that termites can cause is water damage. Termites often build their nests in damp, humid places and may start making them in your plumbing, leading to leaks and water damage, which can lead to mold and mildew growth. If you suspect your home has a termite problem, check for signs of water damage, such as leaks or pools of water in your basement or crawl space.
If you suspect that you have a termite problem, don't wait to take action. Call Ventura Pest Control today, and let us help you eliminate these destructive pests. We've been dealing with these pests for over 62 years, and our equipped team of experts will eliminate infestations, no matter the size.
A Seasonal Look At Termites In Ventura
Here in Ventura, California, we have the unfortunate experience of dealing with termites year-round. That's right; there is no "off-season" regarding these destructive little pests. However, the risk of an infestation does fluctuate throughout the year. Here's a seasonal look at termites in Ventura so that you can be prepared for when they strike:
Spring is the season for swarming: The first thing you need to know about termites in Ventura is that they are most active during the springtime when they go through their "swarming" phase, where reproductives leave their nest in search of a mate and a new place to start a colony. If you see winged insects around your home during the springtime, there's a good chance they're termites. If you see a swarm of these insects near your foundation or in your yard, it's time to call a professional exterminator immediately.

Summer is the season for foraging: Once the swarming season is over, termites will settle down and start foraging for food. They typically tunnel underground and break into homes through cracks in the foundation or other openings. If you notice any mud tunnels around your property or any damage to the wood on your property, it's likely due to termites, and you should call an exterminator immediately.

Fall and winter are the seasons for preparing: While termite activity does slow down during the fall and winter months here in Ventura, that doesn't mean they're not still a threat; this is when they're busy preparing for the next swarming season. Termites will often build skin tubes to access food sources above ground during this time. These tubes are one of the telltale signs of a termite infestation. Don't hesitate to call us if you see any suspicious tubes around your property.
As you can see, there is no such thing as an "off-season" when it comes to termites in Ventura. These pests are active year-round and can cause severe damage to your property if left unchecked. However, by being aware of the seasonal risks associated with termites, you can be proactive about protecting your home. If you suspect you have a termite problem, call Ventura Pest Control today, and we'll be happy to help.
Tips You Can Use To Avoid Termite Damage
When protecting your Ventura home from termites, being proactive is vital. These destructive pests can cause serious damage to your property, so it's essential to take steps to avoid an infestation in the first place. Here are a few tips you can use to prevent termite damage:
Make sure there is no wood-to-soil contact around your home: Termites will often build their nests in soil and tunnel their way to your house in search of food. If there is any wood touching the ground around your home, they will have an easy time getting in. Check the trim around your windows, doors, and any decks or porches attached to your house. If you find any wooden beams or posts touching the ground, raise them, so there are at least six inches of space between the wood and soil.

Inspect the eaves and rooflines of your house regularly: These are other common entry points for termites. Make sure there are no cracks or gaps where they could potentially get in. Also, check for any signs of water damage, as this can attract termites.

Remove any dead trees or stumps from your property: These provide a perfect environment for termites to thrive, so it's best to remove them if you can. If you can't do this yourself, hire someone to do it for you.

Use termite-resistant wood when constructing or repairing your home: This chemically treated wood will deter termites, making it less likely they'll try to make a meal out of it.

Store firewood and other pieces of lumber away from your house. If you have an outdoor fireplace or smoker, store the wood at least 20 feet away from your home; this will give termites one less thing to munch on if they find their way onto your property.
Avoiding termite damage will go a long way in protecting your home. However, even the best prevention methods can't guarantee that you'll never have a problem with these pests. If you find signs of termites in your home, call Ventura Pest Control immediately, and we'll solve the problem.
Three Benefits Of Professional Termite Control In Ventura
If you're like most homeowners, the thought of termites invading your home is enough to make your skin crawl. These destructive pests can devastate your property if given a chance. That's why it's so important to have a professional termite control company on your side. Here are three reasons why Ventura Pest Control is the best termite control company for your Ventura home:
We have the experience and expertise to get the job done right. Our team of experienced professionals has been dealing with termites for over 60 years. We know all the tricks they use to try and avoid detection and how to eliminate them quickly and efficiently.

We use the latest technology and a variety of methods to exterminate termites. Depending on the type of termite and severity of the infestation you have, we may use baiting systems, fumigation, or even heat treatment to exterminate the pests. Whatever method we use, you can rest assured that it will be effective.

Our family-owned and operated business prides itself on attentive care and superb customer service. We understand your home's importance to you, and we'll do everything we can to protect it from these destructive pests.
If you're concerned about termites invading your home, give Ventura Pest Control a call today. We'll be happy to come out and assess the situation and recommend a course of action. Please don't wait until it's too late. Call us today, and let us help you protect your most significant investment.